Beautiful
CASSINI MISSION on Vimeo
Iron
Creating beautiful artwork by pouring paint from coffee cups
I'm a firm believer that artistic ability cannot be taught unless you already have some talent that just needs developing. But I also believe that great art can be created just from an idea, and the video above is a perfect example. A pedestal has been setup and a range of different colored paints poured into coffee cups you usually see people carrying out of a place like Starbucks.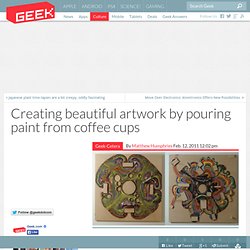 Vivian Maier, street photographer and nanny
HD Video, HD animation, Free HD music video download, Papiroflexia
The eraser.
castle in sky
30 Years of BAD Pictures on Vimeo
The Incredible San Fancisco Artists' Soapbox Derby, 1975. on Vimeo