Inspiration
Get flash to fully experience Pearltrees
Randy Man is the name . The artist shows what can be done with just pencil, his works are amazing, worthy of art. primarily he draws with graphite, but use sometimes charcoal and/or colored pencils if desired. Most of the drawings are 11″ x 14″ or smaller. A standard graphite portrait will cost around $75, depending on the amount of detailed involved, and take about 5 days to complete.
Pablo Picasso , a world-known Spanish artist and painter, gave the world not only many fine art masterpieces, but he also presented us with a lot of wise thoughts, which earned him a place among the greatest thinkers of the 20th century. One of his saying refers directly to the scope of Cruzine and our daily inspirational posts in particular. So, Picasso once said: "Inspiration exists, but it has to find us working" . What an apt, witty, and wise saying!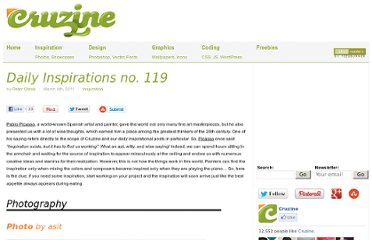 Bob Doucette has worn many hats, from artist to puppeteer, going through doll maker, painter and caricaturer. Many of his dolls are in Demi Moore's private collection and he has directed many well known children's shows. Currently he works in his paintings and independent animated films while daylighting as an animator.
A creative idea without inspiration is like a fancy car without fuel in its tank: the vehicle can be of ultimate design and it can be fully equipped with multiple top-notch gadgets, but if it has no fuel, it simply won't start. Same with creative ideas – human brains can generate literally any idea and the imagination can even create the visual image of the final creation easily; however, if a man lacks inspiration, the idea is in huge risk of remaining unrealized. Imagination often works like some invisible yet almost physically tangible force, which makes us move and perform the actions necessary to transform an idea into some physical object or creation. That is why, people, especially, of those professions, where a creative or artistic component is essential , are always in search of fresh sources of inspiration.
These aren't your typical dollhouses. French artist Marc Giai-Miniet creates incredibly detailed miniature boxes featuring multi-level structures, split apart to give us a fascinating view of what's going on inside. Cluttered yet still very organized, the series titled, "Les boîtes" (The Boxes), includes dark, messy scenes inside laboratories, factories, libraries, and offices.
By Tabi , on February 18, 2010 Everyone knows that claymation art is a traditional art. With so many innovative forms of animation and computer technology being used to create films, adverts and TV shows, some might think that "old favorites" – such as claymation – are a thing of the past. But in reality, some of the more traditional forms of animation are making a comeback – and they're doing so in all realms of media. Claymation is now a popular form of animation, used not only for entertainment purposes but as an advertising and informational tool.
Production When it comes to the production of The Troll Hunter , there were several challenging aspects," says the VFX Supervisor of the show, Øystein Larsen. "This was a very low budget film too, with perhaps a quarter of the three million US dollars going on VFX." The design process had been going on for a while in pre-production. "Some of the trolls proved a bit trickier to get from the 2D stage into 3D," Larsen continues.