ART/Artists
Artist Dmitry Shorin » Design You Trust
Dream Messengers – The strange and colored world of FrodoK
Paintings by Cathie Bleck
Today we talk to Nastasia who is also known as "Ssst." This young lady is a talented vector artist from France. Her conceptual illustrations are vivid, detailed, and full of fantasy characters. Nastastia tells us that her illustrations have stories behind them and that her ideas come from her busy mind.
Interview with Nastasia, aka Ssst
Jin Mrq
Saber Blog » Irezumi Bijin- New Works By Ozuma Kaname and Horiyoshi III @ Known Gallery
Beautiful Artwork of Paul Davey
By using our site, you consent to this privacy policy: This website allows third-party advertising companies for the purpose of reporting website traffic, statistics, advertisements, "click-throughs" and/or other activities to use Cookies and /or Web Beacons and other monitoring technologies to serve ads and to compile anonymous statistics about you when you visit this website. Cookies are small text files stored on your local internet browser cache. A Web Beacon is an often-transparent graphic image, usually no larger than 1 pixel x 1 pixel that is placed on a Web site. Both are created for the main purpose of helping your browser process the special features of websites that use Cookies or Web Beacons. The gathered information about your visits to this and other websites are used by these third party companies in order to provide advertisements about goods and services of interest to you.

On Jan 10, 2011 by Marina Details: Techniques: Final Result Kamil Murzyn, a CG artist from Poland, tells us about his work in CG field. Hi, Kamil! Please, tell us a few words about yourself.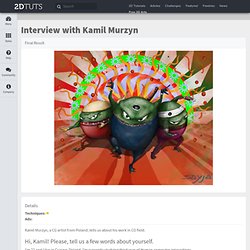 Interview with Kamil Murzyn | Painting.DTuts - Free Tutorials by Digital Painting and Mattepainting
marcos333 Mon, 12/20/2010 - 01:26 Jason Limon is an artist based in San Antonio, Texas, his paintings and drawings have a particular identity, really hard to explain, I could define it as something between dark, grunge, but also something between charming and pretty. The glossy, rounded and cute eyes are the main signature of his artworks. I am an observer of our world, silently scanning its elements and the beings who move among them. My mind absorbs and overflows with thoughts and emotions with no way to be revealed but through marks on a blank surface.
Jason Limon Unique and Stunning Artworks
H.R. GIGER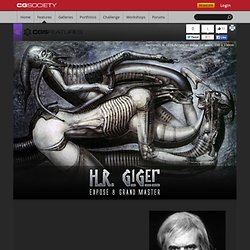 CGSociety :: Special Feature 12 October 2010, by Daniel Wade Each year EXPOSÉ awards the title of Grand Master to an artist who has had a major influence through their craft. By that measure, the EXPOSÉ 8 Grand Master has had an overwhelming influence on not just the art world, but also on movie-going audiences of any science-fiction movie made since 'Alien' in 1979. H. R.
: tomasz opasinski : 2010 :
CGI and 3D modeling is one of the fields take shared forming the industry of computer graphic since its beginning. However, it has developed to provide more abilities to digital artists to create high quality and real look 3D models. In this collection, we will share the show case for five 3D artists that have different styles and techniques.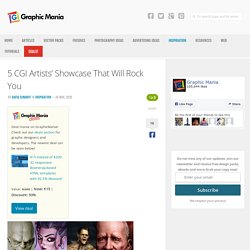 5 CGI Artists' Showcase That Will Rock You | Flash, Design, Vector, Photoshop, Adobe Tutorials | GraphicMania.net
Design History: Photo Manipulation Pioneer John Heartfield