Tech
▶ CÃO AMIGO - VALÉRIA BURBELLO
(6) Walther Grube
Farnell Newark Passive Components : CAPACITOR ELETROL ALUMIN 1F 5.5V
Spectrum Sensors and Controls introduces a ruggedized sensor for monitoring temperature in challenging applications, such as high moisture environments where the sensor is subject to continuous freeze/thaw cycles. The sensor's thermistor element is isolated from not only outside moisture, but also the high stress of freezing and thawing through a unique, swaged end design that provides an excellent moisture seal between the cable and housing. This ruggedized temperature sensor delivers quick response and excellent thermal tracking and is ideal for HVAC, food and beverage and refrigeration system applications.
Rugged Temp Sensor Made for Difficult Environments from Spectrum Control Inc.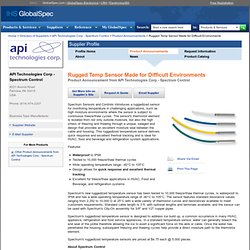 STULZ DH-100™ from Stulz Air Technology Systems, Inc.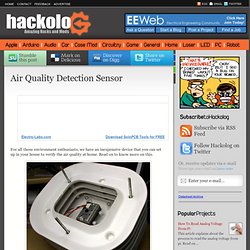 For all those environment enthusiasts, we have an inexpensive device that you can set up in your house to verify the air quality at home. Read on to know more on this. This device can be used to know how clean and safe the air is inside your home This can be used to avoid getting affected by respiratory diseases like asthma. It will also help to precisely identify and correct any pollution sources at home.
Air Quality Detection Sensor | HACKOLOG - Amazing Hacks and Mods
Dr. Simos' presentation on Tesla was eye-opening as well as mathematically and theoretically rigorous in showing that some of Tesla's ideas that were dismissed over a century ago are now seen in a different light. This due to looking back and showing that the ideas, far advanced for the time, are now shown to comply with Maxwell's equations and do not violate any classical laws of mathematics or physics as once thought.The presentation was based on what we understand as classical, mainstream physics to help us understand what Tesla was talking about with his brilliant theories. Dr. Simos showed that certain far-reaching assertions or experimental observations made by Tesla were within fundamental laws.
Tesla---Connecting the dots - Anablog | Blog on EDN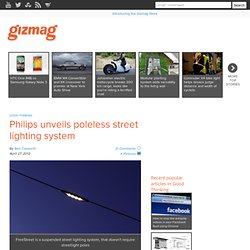 Philips unveils poleless street lighting system
FreeStreet is a suspended street lighting system, that doesn't require streetlight poles Image Gallery (4 images) A group of people including city planners and architects recently put a challenge to Dutch electronics company Philips: design an outdoor lighting system that helps to declutter our streets. The result was FreeStreet, a street lighting system that does away with vertical streetlight poles in favor of horizontally-strung cables that have clusters of LED lights built into them. The system won its designers a 2011 Dutch Design Award, and is available for use in Europe as of this month.
Non-glare nanotextured multifunctional glass repels water and dust
Glass has a unique look - despite its clarity you can tell there is a material there by the way it reflects light, and that it isn't plastic or crystal. Glass, however, carries problems, like glare, fogging, and collects dirt. A group of MIT researchers has found a new way to create arrays of conical micron-scale surface nanotextures to produce glass that is self-cleaning, non-glare, and non-fogging. The researchers believe the nanotextured surface can be made at low enough cost to be applied to optical devices, the screens of smartphones and televisions, solar panels, car windshields and even windows in buildings. While many other approaches toward self-cleaning, non-glare and non-fogging glass surfaces have been tried, including surface hairs , mimicking lotus leaf surfaces , using non-fogging nanosilica polymers and electrically charged self-dusting surfaces , the MIT group is the first to find a single surface modification that boasts these combined properties.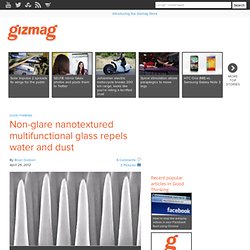 10 incríveis máquinas Lego que realmente funcionam
O Lego pode ser considerado o melhor brinquedo de todos os tempos. Quem nunca se encantou com as pecinhas coloridas dessa indústria dinamarquesa, que atire a primeira pedra. Quando crianças, queríamos apenas construir carrinhos e casas. Hoje, podemos ter boas máquinas de cerveja feitas de Lego.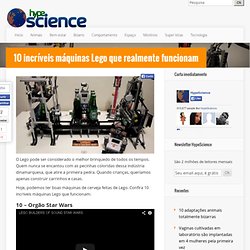 RGB laser projector – 0,5W
Projector consists of three laser modules: red (650nm), green (532nm) and violet (405nm). Light beam emitted by these lasers are combined by interference filters, also called dichroic mirrors or just "dichro". The principle of those filters operation is similar to the principle of Fabry-Perot interferometer operation. The effect is that light of a given wavelength (or a band) is very well reflected, while others are very well passed (or vice versa). Those filters have to be very precisely aligned at right angles, so that the light beam can best overlap. For convenient adjustment of this type of optics, special handles are used.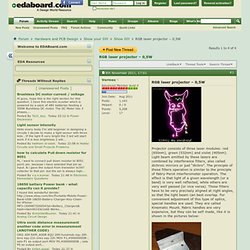 Solidoodle 2 – the sub-$500 3D printer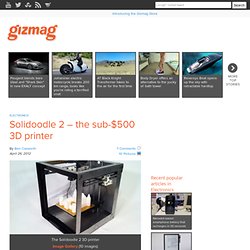 For about a year, former aerospace engineer Sam Cervantes served as the chief of operations for Makerbot, the Brooklyn-based 3D printer manufacturer. While the reasons for his departure hasn't been made public, his subsequent activities have – he's been developing another 3D printer, known as the Solidoodle. He recently unveiled the latest model, the Solidoodle 2, which comes fully-assembled for just under $500. Like other home 3D printers, the Solidoodle creates actual objects based on computer files, by depositing layers of molten plastic on a platform.
Open Vision Control
FTC Sistemas FLIR - Termovisor I3 - Termômetro e Termovisores - Teste e Medição / Equipamentos FTC Sistemas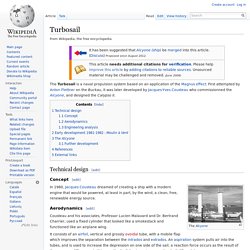 Turbosail
The Turbosail is a naval propulsion system based on an application of the Magnus effect . First attempted by Anton Flettner on the Buckau , it was later developed by Jacques-Yves Cousteau who commissionned the Alcyone , and designed the Calypso II . [ edit ] Technical design [ edit ] Concept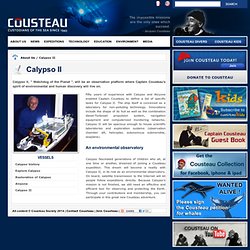 Calypso II | About Us | Cousteau
Calypso II, " Watchdog of the Planet ", will be an observation platform where Captain Cousteau's spirit of environmental and human discovery will live on. Fifty years of experience with Calypso and Alcyone enabled Captain Cousteau to define a list of specific tasks for Calypso II. The ship itself is conceived as a laboratory for non-polluting technology. Innovations include the shape of its hull as well as the combination diesel-Turbosail propulsion system, navigation equipment and computerized monitoring networks. Calypso II will be spacious enough to house scientific laboratories and exploration systems (observation chamber aft, helicopter, autonomous submersible, seaplane).