Cnc
How to wire an arduino-based 3-axis CNC machine. Now we'll wire up each of the EasyDrivers.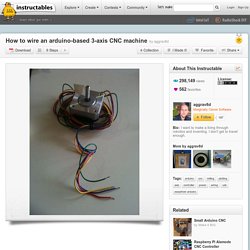 Remove some of the interior wire from the Cat5 and strip the ends. For each servo you will need two normal pairs of white/colored and one oddball of a white and two colored. In all, you'll have to strip 14 ends. PCB soldering is easy, once you get used to it. There are many other tutorials that cover the subjct. BuildYourIdea.com. MAS 863 - David Carr. My final project is a 3-axis CNC milling machine that costs less than $100 (currently $87) to build.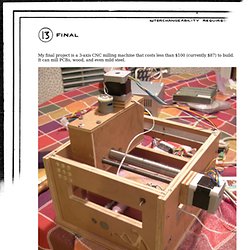 It can mill PCBs, wood, and even mild steel. These PCBs were milled using the machine. The traces are 10-15 mils. Easy to Build Desk Top 3 Axis CNC Milling Machine. Here is a way to make a computer controlled milling machine.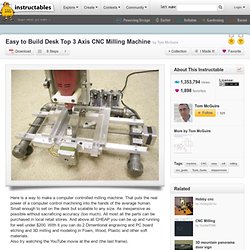 That puts the real power of a computer control machining into the hands of the average human. Small enough to set on the desk but scalable to any size. As inexpensive as possible without sacraficing accuracy (too much). All most all the parts can be purchased in local retail stores. CAM Software. Downloads « DIYLILCNC. Downloads Detailed instruction sets covering every step of our build, from parts lists to assembly and Linux setup; digital source files used for laser-cut/CNC fabrication.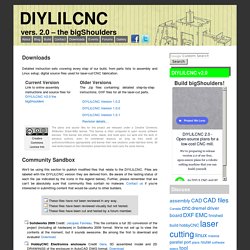 Creative Commons License Info The plans and source files for this project are released under a Creative Commons Attribution Share-Alike license. This license is often compared to open source software licenses. DIY CNC. Mini CNC. Howie m » Amateur CNC mill show and tell. Friday, November 19, 2010 Amateur CNC mill show and tell Thought I'd have a go at something a bit mechanical for a change.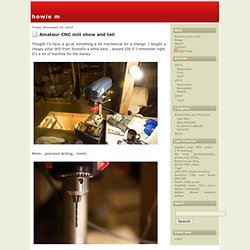 ---