Cnc
How to wire an arduino-based 3-axis CNC machine
BuildYourIdea.com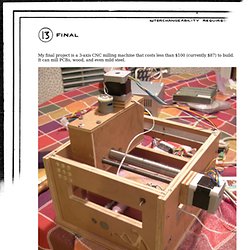 My final project is a 3-axis CNC milling machine that costs less than $100 (currently $87) to build. It can mill PCBs, wood, and even mild steel. These PCBs were milled using the machine. The traces are 10-15 mils.
MAS 863 - David Carr
The frame needs to be a flat base that you can mount everything on horizontally and a goose neck of some kind to hold the Z axis (the up and down part with the motor tool)firmly in place. I used one inch pipe just for fun but as it turned out it was pretty handy too. When I needed to make adjustments I could just tap it with a hammer. As you can see the post that holds the Z axis doesn't have to be in the center. It just needs to be firm and the water pipe does a good job of that.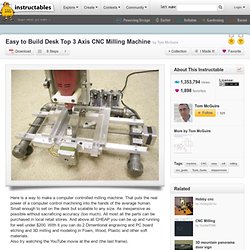 TinyG – Synthetos Blog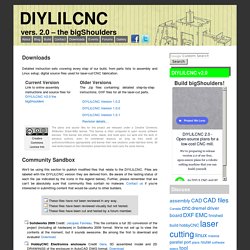 Downloads Detailed instruction sets covering every step of our build, from parts lists to assembly and Linux setup; digital source files used for laser-cut/CNC fabrication. Creative Commons License Info The plans and source files for this project are released under a Creative Commons Attribution Share-Alike license. This license is often compared to open source software licenses.
Downloads « DIYLILCNC
Mini CNC
CNC USB Controller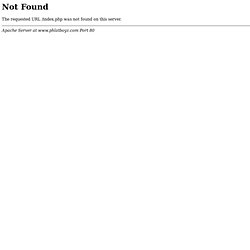 In Stock and Ready to be Shipped! USB to CNC is now a reality! CNC motion controller is a link between personal computer and drivers for stepper motors. It uses a USB port which is available on all modern computers and laptops. This is a complete (software/hardware) solution and it does NOT require any additional software (Mach3 is NOT needed).
Friday, November 19, 2010 Amateur CNC mill show and tell Thought I'd have a go at something a bit mechanical for a change.
howie m » Amateur CNC mill show and tell