Why Vegetarianism
Get flash to fully experience Pearltrees
It has been found that the diet of any animal in its natural state corresponds to its anatomical structure and general body functions. Upon close examination, it is obvious that humans are NOT naturally suited to a diet which includes flesh. Please click the following links for more information: 1. Click me! 2. Click me!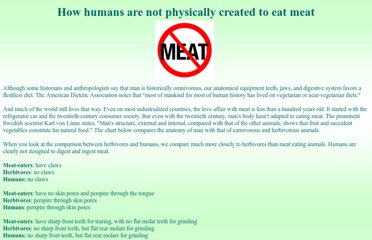 <A HREF="http://ws.amazon.com/widgets/q?ServiceVersion=20070822&MarketPlace=US&ID=V20070822%2FUS%2Fdrakisempzon-20%2F8009%2F616708a2-8fb2-4e5a-8a52-f06882310c87&Operation=NoScript">Amazon.com Widgets</A> How humans are not physically created to eat meat Although some historians and anthropologists say that man is historically omnivorous, our anatomical equipment ­ teeth, jaws, and digestive system favors a fleshless diet. The American Dietetic Association notes that "most of mankind for most of human history has lived on vegetarian or near-vegetarian diets."
These articles are from Facts of Vegetarianism — a booklet that although we believe published in the early 1970s by a joint effort of the American Vegan Society, American Vegetarians, and Animal Liberation, Inc., still expresses valid considerations for adopting a vegetarian diet. Dudley Giehl, H. Jay Dinshah, Nellie Shriver, and Nathaniel Altman were contributing authors.
To do this, we will be relying on you and the the rest of the vegetarian community to add information to the site, so we hope that you will keep coming back to add information about vegetarian places worth visiting - both in the World and on the Internet. As you will be aware, the information on this site had not been updated for too long and so a new method of updating the site is nearing completion. This will allow the site to be both easier to navigate and maintain.
according to the best evidence: our bodies by Michael Bluejay • June 2002 • Updated December 2012 A fair look at the evidence shows that humans are optimized for eating mostly or exclusively plant foods, according to the best evidence: our bodies. We're most similar to other plant-eaters, and drastically different from carnivores and true omnivores. 1,2,3 Those who insist that humans are omnivores, especially if their argument is based on canine teeth, would do well to look at what the evidence actually shows.