Tv
Television
American family watching TV, 1958 Television ( TV ) is a telecommunication medium for transmitting and receiving moving images that can be monochrome ( black-and-white ) or colored, with or without accompanying sound. "Television" may also refer specifically to a television set , television programming , or television transmission .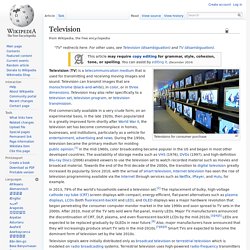 Magic Mesh™ Instant Screen Door | Official Site
As Seen on TV
LifeLock | Leader in Identity Theft Protection
Your Baby Can Read® - Receive free shipping and bonus 5-DVD set just for trying!
Try No No Hair Removal System – 60 Day Trial – Official Site