Reads
Archive Doubt. 1000 journals - Splash. 50 Things Everyone Should Know. Read.
Funny Read
Read for latter. To Do. Books. Life live living. People. Truths Thought Wisdom. Love. Reads. Sex Read. Kids Read. Work. Friends. Animal Read. Reading. What You'll Wish You'd Known. January 2005 (I wrote this talk for a high school.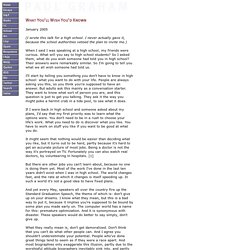 I never actually gave it, because the school authorities vetoed the plan to invite me.) When I said I was speaking at a high school, my friends were curious. What will you say to high school students? So.There. The universal declaration of human rights. A Round Tuit.
---