Ramdon
21 Things That Cannot Be Unseen: Pics, Videos, Links, News. 50 Images from National Geographic`s 2010 Photo Contest. This is one of the most anticipated annual photo contests.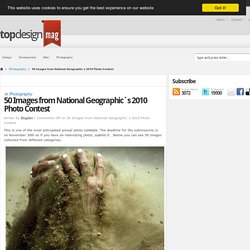 The deadline for the submissions is on November 30th so if you have an interesting photo, submit it. Below you can see 50 images collected from different categories. An Indian wrestler smears mud on his head before starting wrestling in Kolkata, India, March 30, 2010. Wrestling is one of the oldest sports in India. Glennz Tees Designs 2008-09 on the Behance Network. Randomness. Applied usage in science, mathematics and statistics recognizes a lack of predictability when referring to randomness, but admits regularities in the occurrences of events whose outcomes are not certain.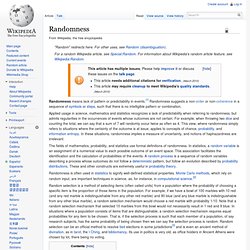 For example, when throwing two dice and counting the total, we can say that a sum of 7 will randomly occur twice as often as 4. This view, where randomness simply refers to situations where the certainty of the outcome is at issue, applies to concepts of chance, probability, and information entropy. In these situations, randomness implies a measure of uncertainty, and notions of haphazardness are irrelevant. The fields of mathematics, probability, and statistics use formal definitions of randomness. Fotorecopilatorio » Curiosidades. Spuky's reviews. 1 день осени - # .shirt wooooooot 111 pic pack. Poleras en NQB .
Picture Is Unrelated - WTF Pictures and Videos. Photo Manipulation - 40 Examples of Incredible Photo Manipulation. Photo manipulation is an ever evolving collaboration between photography and graphic design.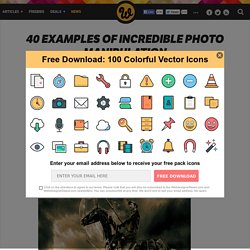 Combining certain elements to create a unique image, that can convince even the most experienced set of eyes, requires a very creative set of skills. Because the manipulation of a photo gives a realistic view of an unreal picture, you should have an open mind when gathering ideas on how to get creative with your images. Photo manipulations are a great source for inspiration, generally because designers are able to express their creativity through various aspects of design. Great Photos – Caught At The Right Time | Itay's World. Posted on March 15th, 2008 by Itay The following is a selection of over 50 of photos captured at the precise instant!
Nothing like a great photographer, at the right place and time, with a quick eye and fast shutter! Awesome Desktop Wallpapers: the Abstract Art Edition. Let's face it—browsing around the web looking for great wallpapers can be loads of fun, but it's not very productive.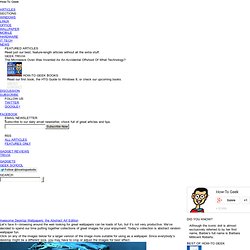 We've decided to spend our time putting together collections of great images for your enjoyment. Today's collection is abstract random wallpaper fun. Click on any of the images below for a larger version of the image more suitable for using as a wallpaper. Bobby-Rubio-X-hangover.jpg (JPEG Image, 1190x770 pixels) - Scaled (69%) Great Photos – Caught At The Right Time – Part II | Itay's World. Street Art from Bristol. Photography community, including forums, reviews, and galleries from Photo.net. Absolutely Amazing Photography by Irene Suchocki | smashingpicture.com. "I am a self-taught freelance photographer.
I was born in Toronto, but moved to Montreal in 2001, and will be forever grateful to my high school French teacher. I love to experiment with different styles and techniques, both in-camera and in my digital darkroom. Faithfully capturing a scene is less important to me than finding that little bit of mystery, evoking a certain mood, or telling a story. Through my photography, I like to explore of the ethereal, the surreal, the whimsical, the mysterious, and the beautiful. I like to consider each photograph a little poem for the eyes." And self-conscious angst_2.gif (400×409) 12 Wackiest Foot Tattoos. Every Day. Everyday Objects Come Alive - Part 3.
Cookie Crumbs Terry Border is one of our favorite creative people on the planet.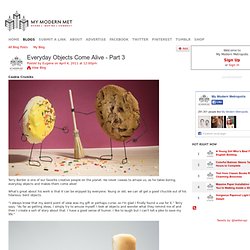 He never ceases to amaze us, as he takes boring, everyday objects and makes them come alive! What's great about his work is that it can be enjoyed by everyone. Young or old, we can all get a good chuckle out of his hilarious, bent objects. Still life: Bent objects » Article » OWNI.eu, Digital Journalism. UPDATE: The Return of Bent Objects Wires transform these objects from inanimate to hilarious works of art.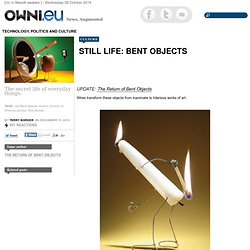 Little polish girl McDonalds as Sculpture Materials. Utensils Pictures. The Jacky Winter Group represents Australian Illustrators. Terry Border Makes Everyday Objects Come Alive (18 pics) Mail-Order Bride Artist Terry Border is one of those people who has a secret gift.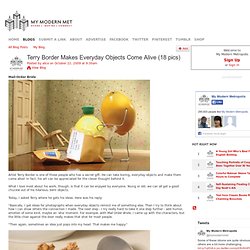 He can take boring, everyday objects and make them come alive!
---