Mind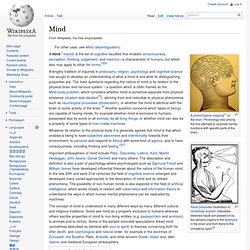 A phrenological mapping [ 1 ] of the brain . Phrenology was among the first attempts to correlate mental functions with specific parts of the brain. A mind ( pron.: / ˈ m aɪ n d / ) is the complex of cognitive faculties that enables consciousness , perception , thinking , learning , reasoning , and judgement —a characteristic of human beings , but which also may apply to other life forms . [ 3 ] [ 4 ]
Psychology is the study of the human mind and mental processes in relation to human behaviors - human nature. Due to its subject matter, psychology is not considered a 'hard' science, even though psychologists do experiment and publish their findings in respected journals. Some of the experiments psychologists have conducted over the years reveal things about the way we humans think and behave that we might not want to embrace, but which can at least help keep us humble. That's something. 1. 'Lord of the Flies': Social Identity Theory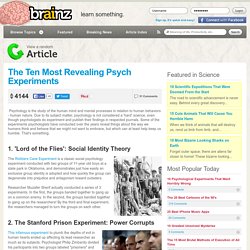 "Young Japanese men are growing indifferent or even averse to sex , while married couples are starting to have it even less," reports The Japan Times , citing a 2010 poll. The trend is escalating rapidly. More than 36% of men aged 16 to 19 have no interest in sex, more than double the 17.5 % from 2008. Men between 20 and 24 showed a similar trend, jumping from 11.8 % to 21.5 %, while men between 45 and 49 leaped from 8.7 % to 22.1 %. Japan isn't alone.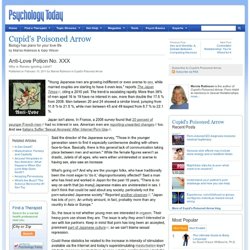 Anti-Love Potion No. XXX
"Oppositional Defiant Disorder" or "Just Behaving Like a Boy"?
Last week, as I was pondering how to begin this blog, I received a call from a worried mother of a five-year-old boy. Her son, Jonathon (not his real name), was about to be thrown out of kindergarten. He constantly argued with his teacher and refused to comply with the simplest of requests--such as lining up to go back to the classroom after recess.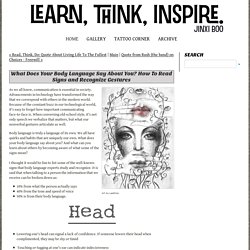 Art by Laetitzia As we all know, communication is essential in society. Advancements in technology have transformed the way that we correspond with others in the modern world. We live in an era when launching apps, using an online QR code generator for immediate information, following turn-by-turn map navigation on our phones, and microblogging with tweets and instant photos have become the norm.