Mayan Calendar
The Maya calendar is a system of calendars used in pre-Columbian Mesoamerica , and in many modern communities in highland Guatemala [ 1 ] and in Veracruz, Oaxaca and Chiapas, Mexico. [ 2 ]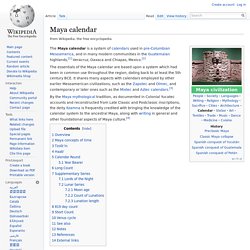 Introduction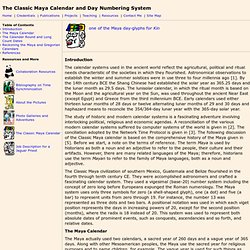 The Classic Maya Calendar and Day Numbering System
Why 2012?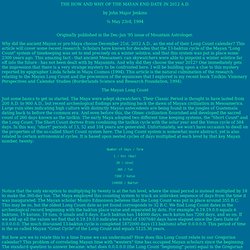 by John Major Jenkins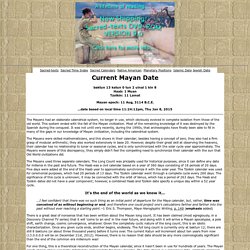 Mayan Calendar
baktun 13 katun 0 tun 0 uinal 4 kin 17 Haab: 0 undefined Tzolkin: 10 Caban Mayan epoch: 11 Aug, 3114 B.C.E. ...date based on local time 1:08:12pm, Thu Mar 28, 2013
How the Mayan Calendar Works"
Most people around the globe look at some form of a calendar every single day. Business executives check to see when their meetings are scheduled. The busy mom confirms soccer practices and piano lessons. College students ensure that their papers are turned in on time and they have plenty of time to study for exams. For the people of ancient Maya, calendars were just as important to daily life as they are to people today. The Mayans originated in a region called Mesoamerica , or Middle America.