Drinks
Drinks. The world's second most consumed drink, tea Drinks, or beverages, are liquids specifically prepared for human consumption.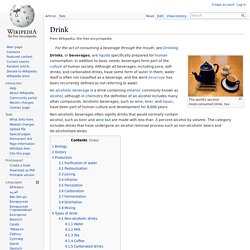 In addition to basic needs, beverages form part of the culture of human society. Despite the fact that most beverages, including juice, soft drinks, and carbonated drinks, have some form of water in them; water itself is often not classified as a beverage, and the word beverage has been recurrently defined as not referring to water. An alcoholic beverage is a drink containing ethanol, commonly known as alcohol, although in chemistry the definition of an alcohol includes many other compounds. Alcoholic beverages, such as wine, beer, and liquor have been part of human culture and development for 8,000 years. Coffee. Coffee is a brewed beverage prepared from the roasted or baked seeds of several species of an evergreen shrub of the genus Coffea.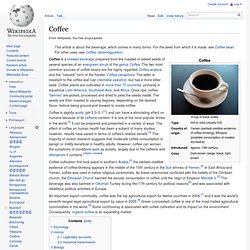 The two most common sources of coffee beans are the highly regarded Coffea arabica, and the "robusta" form of the hardier Coffea canephora. The latter is resistant to the coffee leaf rust (Hemileia vastatrix), but has a more bitter taste. Coffee plants are cultivated in more than 70 countries, primarily in equatorial Latin America, Southeast Asia, and Africa. Once ripe, coffee "berries" are picked, processed and dried to yield the seeds inside. The seeds are then roasted to varying degrees, depending on the desired flavor, before being ground and brewed to create coffee.
No Impact Necessary » Post Topic » 10 Ways to Reuse Your Morning Coffee Grounds. Pass The Apple Cider Vinegar Please. By Lana Lokteff | redicecreations.com Vinegar is said to have been used for medical ailments in the ancient times.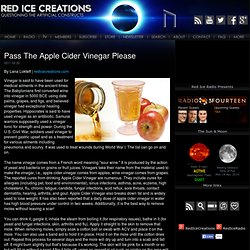 The Babylonians first converted wine into vinegar in 5000 BCE using date palms, grapes, and figs, and believed vinegar had exceptional healing properties. Hippocrates is said to have used vinegar as an antibiotic. Samurai warriors supposedly used a vinegar tonic for strength and power. During the U.S.
---