ChromeBook
chromebook vs ipad
Samsung Chromebook vs iPad 2 vs Macbook Air
Chromebooks and the Apocalypse
Chromebook Kicks Ipad Ass! Plus super new windowing feature.
chromebook vs netbook
The Original Google Chromebook, Passwords That Don't Suck. Mezzmo: A ...
Acer Chromebook Review and Hands-on Video
Google chrome book customer vs Retail store
Chromebook
chromebook
Google Instant is unavailable. Press Enter to search.Learn more Google Instant is off due to connection speed. Press Enter to search. Press Enter to search. Screen reader users, click here to turn off Google Instant.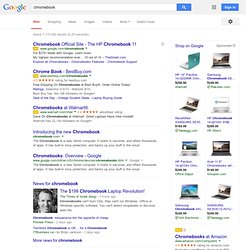 What is a Chromebook? The Chromebook is a new computer from Google that's simple, lightweight and easy to use. Starts in seconds, backs-up your stuff in the cloud and keeps it safe with built-in virus protection. It's the ideal device for getting stuff done everywhere you go. Get stuff done with Google
Chromebooks