Alternatives
New Age, also referred to as the New Age movement or New Age Spirituality , is a spiritual movement whose purpose is to seek the Universal Truth, and for each human to reach its highest potential.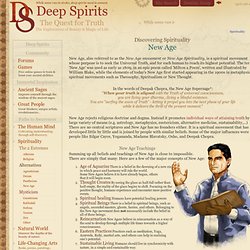 New Age Spirituality
Milton a Poem
Frontispiece to Milton .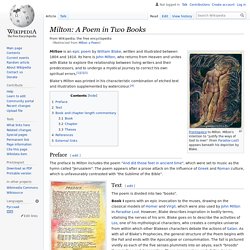 Milton a Poem
milton
Title; E95| MILTON t211 Mtitle; E95| a Poem in 2 Books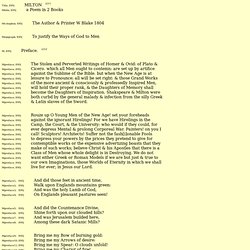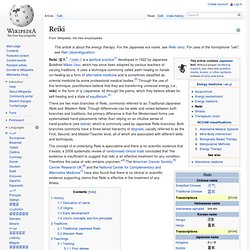 [ edit ] Traditions
The Age of Aquarius is an astrological term denoting either the current or upcoming astrological age , depending on the method of calculation.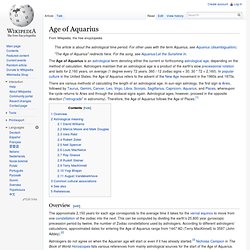 Thought Creates
Energy medicine, energy therapy or energy healing , a branch of complementary and alternative medicine , holds the belief that a healer can channel healing energy into the person seeking help by different methods: hands-on, [ 1 ] hands-off, [ 1 ] and distant [ 1 ] [ 2 ] (or absent) where the patient and healer are in different locations. There are various schools of energy healing.
Energy medicine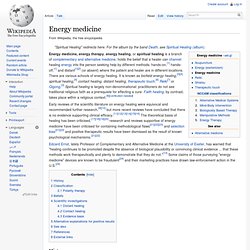 Spiritual beings
Reincarnation is the religious or philosophical concept that the soul or spirit , after biological death , begins a new life in a new body that may be human, animal or spiritual depending on the moral quality of the previous life's actions.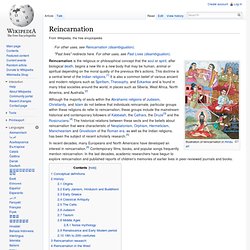 Eastern Practices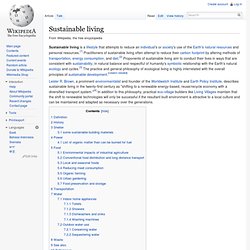 Sustainable living is a lifestyle that attempts to reduce an individual 's or society 's use of the Earth 's natural resources and personal resources. [ 1 ] Practitioners of sustainable living often attempt to reduce their carbon footprint by altering methods of transportation , energy consumption , and diet . [ 2 ] Proponents of sustainable living aim to conduct their lives in ways that are consistent with sustainability , in natural balance and respectful of humanity's symbiotic relationship with the Earth's natural ecology and cycles. [ 3 ] The practice and general philosophy of ecological living is highly interrelated with the overall principles of sustainable development . [ citation needed ]
Sustainable living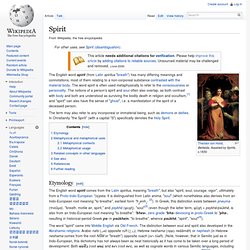 The English word spirit (from Latin spiritus " breath ") has many differing meanings and connotations, most of them relating to a non-corporeal substance contrasted with the material body .
Spirit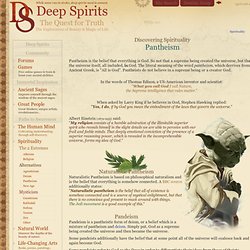 Pantheism, Naturalistic Pantheism & Pandeism\
Discovering Spirituality Pantheism is the belief that everything is God.
Deism & Pandeism
Deism is the belief that a supreme power created the universe and that this, and other truths, can be determined using reason and by observing the natural world. For deists there is no need for faith, nor organized religion in order to come to these conclusions. Most deists don't see holy books and divine revelation as an authoritative source, but rather as interpretations by other humans.
Agnosticism
Agnostosticism is the belief that claims concerning God and certain accompanying religious or metaphysical beliefs cannot be proven either way. The truth is not known so it cannot be argued. In the words of Jorge Luis Borges, a famous Argentinian writer and poet:
Obscurity
'Am I An Atheist Or An Agnostic?' by Bertrand Russell ~ Agnosticis
A Plea For Tolerance In The Face Of New Dogmas