Ageing People
Ageing. Ageing (British English) or aging (American English) is the accumulation of changes in a person over time.[1] Ageing in humans refers to a multidimensional process of physical, psychological, and social change.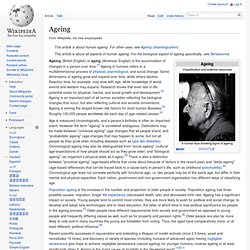 Some dimensions of ageing grow and expand over time, while others decline. Reaction time, for example, may slow with age, while knowledge of world events and wisdom may expand.
Old People. Aged Peoples. Teens. Kids. Baby.
---