Green brands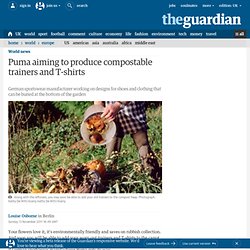 Puma aiming to produce compostable trainers and T-shirts | World news
Along with the leftovers, you may soon be able to add your old trainers to the compost heap. Photograph: Kathy De Witt/Alamy Your flowers love it, it's environmentally friendly and saves on rubbish collection. And soon you will be able to add your worn-out trainers and T-shirts to the carrot peels, potato skins and eggshells on the compost heap at the end of your garden, if German sportswear manufacturer Puma gets its way.
Facebook
What is EarthPositive ? EarthPositive® is a green revolution in promotional apparel: Climate Neutral T-shirts. Organic and ethically made, but crucially, manufactured solely using sustainable energy generated from wind and solar power. EarthPositive® is a practical and immediate solution for business and fashion to face their biggest challenge and take immediateaction to combat climate change. We have specifically chosen to work in regions where organic cotton is planted and harvested by hand, without mechanization, and because organic farming does not usepetroleum based chemical fertilizer, pesticide or herbicide, it is less reliant on fossil fuels. EarthPositive® apparel is made in carbon neutral manufacturing facilities in India, from 'low impact' organic cotton, and is distributed through carbon neutral warehouses and offices in London that use only renewable green electricity.
Continental Clothing UK - About EarthPositive Apparel®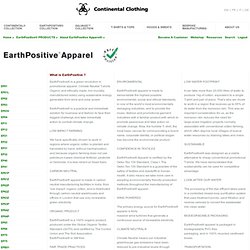 TEDxBasqueCountry - Pierre Pomiers - NOTOX
Home - Evilated
Accueil
PYUA ECORRECT FREERIDING – PYUA ist die weltweit erste und führende Marke für modische Freeride-Kleidung aus umweltverträglichen Textilien.
24/01/2012 – Munich. PYUA tripled its success! Munich Fair has today announced the winners of this year's Eco Responsibility Award by ispo. The prestigious prize was taken out by the German outerwear brand PYUA for the third consecutive year.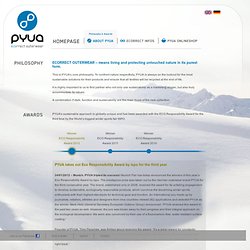 The New Scout Hot Coral, View it here! I get it! Thanks!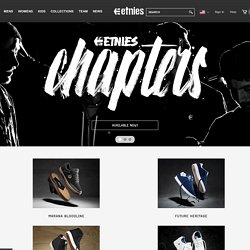 Magic Potion - Eco friendly wax for ski and snowboard.
Magic Potion is now available on-line with FREE Shipping in North America! Waxing your own skis or snowboard without hurting the environment has never been so easy with Magic Potion on wipes or liquid form. Check out our product page and select your type of wax here >>>
At Imagine we are addicted to stand up paddle boarding. We truly live the lifestyle and have produced a comprehensive line of designs and construction options to allow everybody to get on the water and have as much fun as possible. That's why we say we don't just make paddleboards, we make paddle boarders. Dave Kalama's Five Exercises for Every Athlete
Imagine Surf Stand Up Paddleboards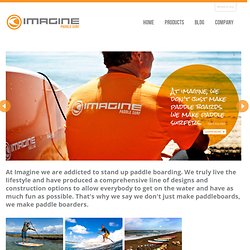 Atreebutes - THE JETLAG COLLECTION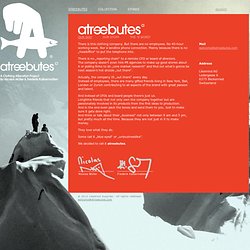 There is this clothing company. But there are no employees. No 40-hour working week. Nor a landline phone connection. Mainly because there is no "headoffice" to put the telephone into.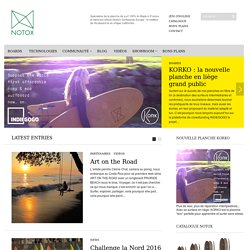 La gamme QUANTUM dévoilée ! Découvrez la nouvelle gamme QUANTUM ! Le principe est simple : rendre plus accessible nos produits sans faire de concession sur la qualité, ni sur notre éthique de fabrication : 100% lin, 100% made in France ! Cette nouvelle gamme est très simple.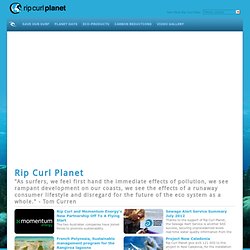 The two Australian companies have joined forces to promote sustainability. Thanks to the support of Rip Curl Planet, the Sewage Alert Service is another SAS success, securing unprecedented levels real-time water quality information from the UK's water industry. On this territory there are actually: 23 lodging establishments, 5 diving clubs, 11 companies that offer various water activities, 181 lagoon fisheries, 20 coastal fisheries, 7 maritime pearl oyster culture establishments as well as a high density of hammerhead sharks and manta rays, lemon shark and green turtle breeding grounds and the regular presence of ambassador dolphins or humpback whales. The development of intelligent interaction is therefore essential.
Rip Curl Planet | Home | Rip Curl Planet
TWOTHIRDS | SURF & STREET FASHION
- bleed organic clothing - bleed for nature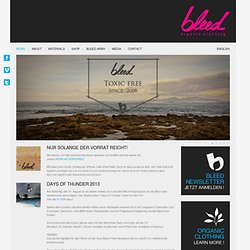 bleed organic clothing bietet eine große Auswahl an nachhaltiger Streetwear, die sich aufgrund der außergewöhnlichen Materialien auch für den sportlichen Einsatz eignet. Die Kollektion 2013 umfasst mehr als 100 Teile. Von einfachen Organic-Shirts bis hin zu funktioneller Sportbekleidung bietet bleed eine große Auswahl an Bio-Bekleidung. bleed clothing beweist, dass nachhaltig produzierte, ökologische Kleidung nicht nur gut aussieht, sondern für den Einsatz im Sport taugt. Das bleed-Team liebt Extremsportarten wie Surfen, Skaten, Snowboarden und Mountainbiken, dadurch lernt man die Natur besonders zu schätzen.
Zimtstern - Zimtstern
Picture Organic Clothing