Green brands
Puma aiming to produce compostable trainers and T-shirts | World news. Your flowers love it, it's environmentally friendly and saves on rubbish collection.
And soon you will be able to add your worn-out trainers and T-shirts to the carrot peels, potato skins and eggshells on the compost heap at the end of your garden, if German sportswear manufacturer Puma gets its way. "We are confident that in the near future we will be able to bring the first shoes, T-shirts and bags, that are either compostable or recyclable, to the market," Puma boss Franz Koch told the German business magazine Wirtschaftswoche. He explained that the company was working with partners on developing products on the principle of the "cradle-to-cradle" design.
"It follows two circuits, the technical and the biological: I can use old shoes to make new ones or something completely different, such as car tyres," said Koch, who has led the sports clothing company since July. Facebook. Continental Clothing UK - About EarthPositive Apparel® What is EarthPositive ?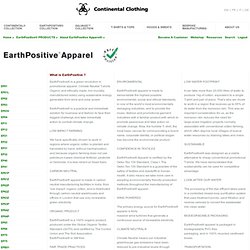 EarthPositive® is a green revolution in promotional apparel: Climate Neutral T-shirts. Organic and ethically made, but crucially, manufactured solely using sustainable energy generated from wind and solar power. EarthPositive® is a practical and immediate solution for business and fashion to face their biggest challenge and take immediateaction to combat climate change.
We have specifically chosen to work in regions where organic cotton is planted and harvested by hand, without mechanization, and because organic farming does not usepetroleum based chemical fertilizer, pesticide or herbicide, it is less reliant on fossil fuels. EarthPositive® apparel is made in carbon neutral manufacturing facilities in India, from 'low impact' organic cotton, and is distributed through carbon neutral warehouses and offices in London that use only renewable green electricity. TEDxBasqueCountry - Pierre Pomiers - NOTOX. Home - Evilated. Accueil. PYUA ECORRECT FREERIDING – PYUA ist die weltweit erste und führende Marke für modische Freeride-Kleidung aus umweltverträglichen Textilien. Etnies - Action Sports Footwear and Apparel. Magic Potion - Eco friendly wax for ski and snowboard. Imagine Surf Stand Up Paddleboards.
Atreebutes - THE JETLAG COLLECTION. NOTOX Surfboards (fr) | NOTOX : planches de surf très haute performance et éco-conçues. Rip Curl Planet | Home | Rip Curl Planet. TWOTHIRDS | SURF & STREET FASHION. - bleed organic clothing - bleed for nature. Outdoor Clothing, Apparel and Gear for Climbing, Hiking, Surfing, Running, Travel. Zimtstern - Zimtstern. Home - VAUDE - The Spirit of Mountain Sports. Picture Organic Clothing.
---