Architecture
We have so much technology to design and build these days, but it is all meaningless without an application like this: a device scans each board that passes through the machine, evaluates its natural curves and structural properties, then slices it into perfectly-fitting but uniquely-shaped floorboards.
Scanned Boards Custom Cut into Curved Hardwood Floors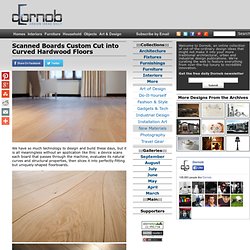 first image 'passive house' image courtesy franklin azzi architecture franklin azzi architecture designed 'passive house', through renovating a former hunting house in normandy, france. the extension consists of wood, canvas covers a camouflage of the cuban army. above is a wooden terrace overlooking the valley. slabs of the house to the left and right include a heated floor and external industrial sockets. in front of the house is a bunker made from concrete for an office. the project meets the requirements of high environmental quality as it includes rainwater collection, the use of solar energy (hybrid) and geothermal energy, and reduction of raw material by optimizing the efforts to structure. the assembly of the structure was done on site with all recyclable materials from a distance of 100km. wood and vegetable fibers are used for the walls providing insulation and windows provide natural ventilation, etc. 'passive house' image courtesy franklin azzi architecture
franklin azzi architecture: passive house, normandy france
first image 'casa pezo' by pezo von ellrichshausen architects located in catalonia, spain image © solohouses chile-based pezo von ellrichshausen architects has produced the first home for this year's solo houses series. now an annual initiative, emerging prominent architecture firms are tasked with encapsulating their design philosophies within a 200 m2 vacation home. innovation and creativity are limitless providing designers with an opportunity to propose ideal structures with viable budgets. exterior veranda provides panoramic vistas of the matarranya region image © solohouses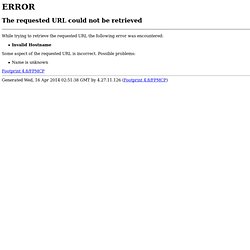 Johannesburg-based studio Nico Van Der Meulen Architects has designed the Glass House project. This impressive two story contemporary home is located in Johannesburg, South Africa. Glass House by Nico Van Der Meulen Architects :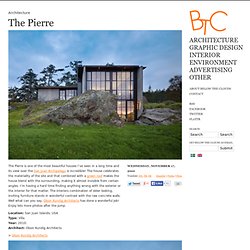 The Pierre is one of the most beautiful houses I've seen in a long time and its view over the San Juan Archipelago is incredible! The house celebrates the materiality of the site and that combined with a green roof makes the house blend with the surrounding, making it almost invisible from certain angles. I'm having a hard time finding anything wrong with the exterior or the interior for that matter. The interiors combination of older looking, inviting furniture stands in wonderful contrast with the raw concrete walls.
Each day, thousands of people walk by 5 Beekman, a pretty yet unassuming building in Lower Manhattan, never guessing what could be found within. Scouting New York, a blog written by a location scout that's a must-read for local history freaks, got invited inside for an incredible peek at an architectural gem that's hidden in plain sight. As you enter the building it's nothing special, says Scouting NY. "And then you look up…" For nine stories, the ornate cast-iron railings twirl up and up through a light-filled atrium.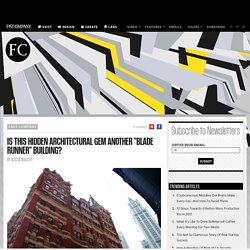 Is This Hidden Architectural Gem Another "Blade Runner" Building?