Sports
Fishing Resources Home
San Diego Trout
Evolutionarily significant, for living in the first place that the progenitors of modern Rainbow Trout appeared on the Pacific Coast, the steelhead of Baja California and San Diego, northward to Santa Barbara County, are classified by the National Marine Fisheries Service (NMFS) as Evolutionarily Significant Unit #11 (ESU 11). It is theorized (aided by genetic identification) that the Rainbow Trout evolved from the Cutthroat Trout that migrated down the Colorado River, in an evolutionary journey that began mid-continent some 2 million years ago and concluded approximately 50,000 years ago. These "rainbow-like" Cutthroats evolved/branched into Proto-Rainbow strains; these trout entered the drainages of the Southwestern United States, and, upon entering a much less saline Sea of Cortez, the trout migrated and evolved up the drainages of mainland Mexico and Baja California, Mexico.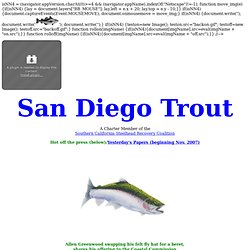 fishing & hunting, outdoors, sports & outdoors
Across the wide array of fishing rods, Shakespeare's Ugly Stik (*Est. $40 with reel) stands out as one of the most popular models for almost 30 years. The Ugly Stik comes up in almost every professional review, and also receives the most comments from users who consistently praise it as one of the best fishing rods on the market, especially in this price range. Field and Stream lists it as one of the strongest rods available and conducted a survey in which readers voted it their number one gear item.
Cheap, Durable Fishing Rods - Fishing Rods Reviews