Intellectualism
College Online Test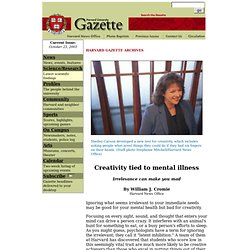 Irrelevance can make you mad By William J. Cromie Harvard News Office Ignoring what seems irrelevant to your immediate needs may be good for your mental health but bad for creativity. Focusing on every sight, sound, and thought that enters your mind can drive a person crazy.
"Music helps me concentrate," Mike said to me glancing briefly over his shoulder. Mike was in his room writing a paper for his U.S. History class. On his desk next to his computer sat crunched Red Bulls, empty Gatorade bottles, some extra pocket change and scattered pieces of paper. In the pocket of his sweat pants rested a blaring iPod with a chord that dangled near the floor, almost touching against his Adidas sandals. On his computer sat even more stray objects than his surrounding environment.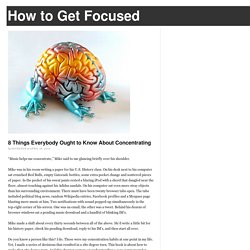 Get free online courses from the world's leading universities – Stanford, Yale, MIT, Harvard, Berkeley, Oxford and more. This collection includes over 875 free courses in the liberal arts and sciences. You can download these audio & video courses (often from iTunes, YouTube, or university web sites) straight to your computer or mp3 player.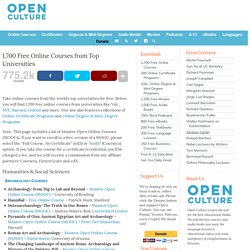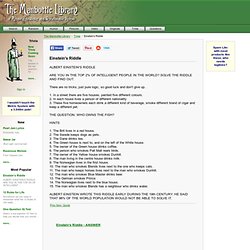 There are no tricks, just pure logic, so good luck and don't give up. 1. In a street there are five houses, painted five different colours. 2. In each house lives a person of different nationality 3. These five homeowners each drink a different kind of beverage, smoke different brand of cigar and keep a different pet. 1.
- StumbleUpon
By: Maria Popova "Through our scopes, we see ourselves. Every new lens is also a new mirror." Given my longtime fascination with the so-termed digital humanities and with data visualization, and my occasional dabbles in the intersection of the two, I've followed the work of data scholars Erez Aiden and Jean-Baptiste Michel with intense interest since its public beginnings. Now, they have collected and contextualized their findings in the compelling Uncharted: Big Data as a Lens on Human Culture (public library) — a stimulating record of their seven-year quest to quantify cultural change through the dual lens of history and digital data by analyzing the contents of the 30,000 books digitized by Google, using Google's Ngram viewer tool to explore how the usage frequency of specific words changes over time and what that might reveal about corresponding shifts in our cultural values and beliefs about economics, politics, health, science, the arts, and more.
Information is Beautiful on the Thailand floods: scale of devastation. Click image for graphic Floods. Amazon deforestation. Earthquake destruction.
Information is Beautiful on the Thailand floods | News