Squat - history, archive texts
Planned shrinkage. The large number of fires in the South Bronx after the city slashed fire service there serves as a symbol of planned shrinkage to critics.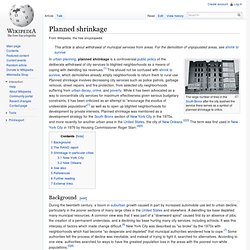 In urban planning, planned shrinkage is a controversial public policy of the deliberate withdrawal of city services to blighted neighborhoods as a means of coping with dwindling tax revenues.[1] This should not be confused with shrink to survive, which demolishes already empty neighborhoods to return them to rural use. Planned shrinkage involves decreasing city services such as police patrols, garbage removal, street repairs, and fire protection, from selected city neighborhoods suffering from urban decay, crime, and poverty.
While it has been advocated as a way to concentrate city services for maximum effectiveness given serious budgetary constraints, it has been criticized as an attempt to "encourage the exodus of undesirable populations"[1] as well as to open up blighted neighborhoods for development by private interests. Planned Shrinkage – Ricky Flores Photography. In the early 1970s, RAND conducted a study that showed how city services relate to population in a large city.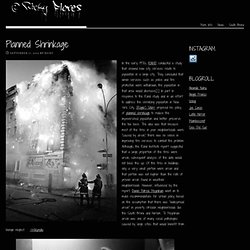 They concluded that when services such as police and fire protection were withdrawn, the population in that area would decrease.[1] In part in response to the Rand study and in an effort to address the shrinking population in New York City, (Roger) Starr proposed his policy of planned shrinkage to reduce the impoverished population and better preserve the tax base. The idea was that because most of the fires in poor neighborhoods were "caused by arson," there was no sense in improving fire services to combat the problem. Although, the Rand Institute report suggested that a large proportion of the fires were arson, subsequent analysis of the data would not back this up. Of the fires in buildings, only a very small portion were arson and that portion was not higher than the rate of proven arson found in wealthier neighborhoods. MojoPin.org. 2 St.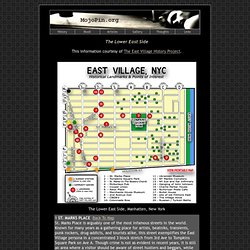 Marks Place: Just East of 3rd Ave., to the left of the St. Marks Hotel, once stood The Five Spot (now the St Marks Ale House), a prominent jazz/poetry/beat hangout in the 1960's. 4: The Trash and Vaudeville clothing store was once the site of a controversial performance space The Bridge Theater. NEIGHBORHOOD REPORT: EAST VILLAGE/LOWER EAST SIDE; Fire Brings Out 'Barn-Raising' Spirit, and Concerns. No one is sure what happened, but a fire started in a first-floor bedroom at Bullet Space, an artists' collective and gallery on Third Street, last Saturday around 9:20 A.M.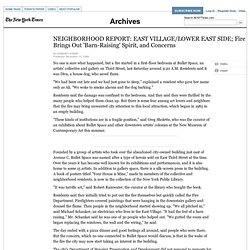 Residents said it was Diva, a house dog, who saved them. ''We had been out late and we had just gone to sleep,'' explained a resident who gave her name only as Ali. ''We woke to smoke alarms and the dog barking.'' Residents said the damage was confined to the bedroom. Artists Alliance | Bulletspace/Your House Is Mine, N.Y., NY. ©1989 / 1991 Bulletspace, 19.5' x 24.5', 16 pounds, 40 pages, 11 double-sided, 29 posters on Mohawk vellum paper, editioned and signed by each contributing artist, silkscreen, lithograph, spray-paint, collage, two vellum end sheets, wood covers cased in lead, with a bolt binding.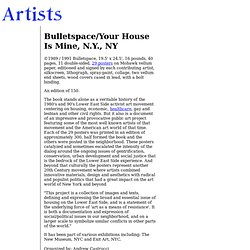 An edition of 150. The book stands alone as a veritable history of the 1980's and 90's Lower East Side activist art movement centering on housing, economic, healthcare, gay and lesbian and other civil rights. But it also is a document of an impressive and provocative public art project featuring some of the most well known artists of that movement and the American art world of that time. Each of the 29 posters was printed in an edition of approximately 300, half formed the book and the others were posted in the neighborhood. Bullet Space is the first of the former LES squats to take over ownership of building from city. Bullet Space, an artists' collective and gallery on Third Street between Avenue C and Avenue D, is the first of the 11 former LES squats to be turned over to its residents.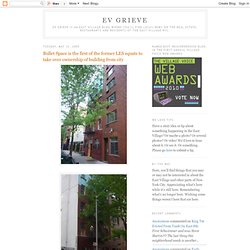 A source at the Urban Homesteading Assistance Board (UHAB), the nonprofit that has acted as a liaison between the tenants and the city throughout the renovation process of the former LES squats, confirmed the transfer yesterday afternoon. According to the UHAB source: Bullet Space "has officially had its permanent loan closed, and transferred into the name of Bullet Space H.D.F.C. " As the UHAB source explained, "Bullet Space officially owns the building. " For the time being, UHAB executives will remain on their board. Bullet Space : Curbed NY. 1) About 30 years ago a group of squatters took over an abandoned and burned-out East Village tenement, fixed it up at their own expense, turned it into a thriving arts center and helped make the East Village safe for Momofuku Ko to charge $200 for dinner.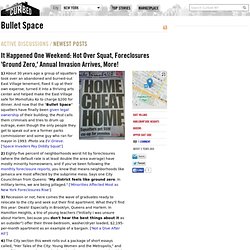 And now that the "Bullet Space" squatters have finally been given legal ownership of their building, the Post calls them criminals and tries to drum up outrage, even though the only people they get to speak out are a former parks commissioner and some guy who ran for mayor in 1993. Photo via EV Grieve. ['Space Invaders Pay Diddly Squat'] Tompkins Square anarchists ride again. Aging veterans of the 1988 Tompkins Square police riot gathered on the steps of New York's City Hall April 3 to oppose the installation of surveillance cameras in the park.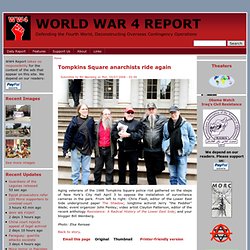 From left to right: Chris Flash, editor of the Lower East Side underground paper The Shadow; longtime activist Jerry "the Peddler" Wade; event organizer John Penley; video artist Clayton Patterson, editor of the recent anthology Resistance: A Radical History of the Lower East Side; and your blogger Bill Weinberg. Photo: Elsa Rensaa Back to story. BULLET SPACE. Sweat Equity Pays Off. In the fall of 1988, Siobhan Meow entered 21-23 Avenue C with a flashlight.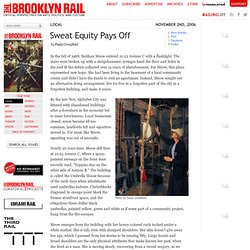 The stairs were broken up with a sledgehammer, syringes lined the floor and holes in the roof lit the debris collected over 12 years of abandonment. For Meow, this place represented new hope. Loisaida Through The Lens. - CityLimits.org. What's happening at the Umbrella House? There is plywood and a "store for rent" sign up at the Umbrella House, the former squat -- named for its leaky roof -- at 21-23 Avenue C between Second Street and Third Street.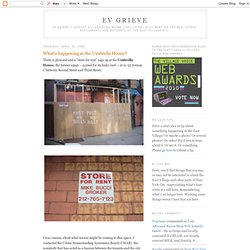 I was curious about what tenant might be coming to this space. I contacted the Urban Homesteading Assistance Board (UHAB), the nonprofit that has acted as a liaison between the tenants and the city throughout the renovation process of the former LES squats. Here's what UHAB spokesperson Jess Wisloski told me: "Despite the for rent sign on the building, Umbrella has found a tenant -- a local barbershop is planning to expand their business.
We hope to see it open for business in the next few months once their renovation of the space is complete. " Better Homes and Squatters. Even when the city sealed off East 8th Street with 400 cops and began tearing down his squat in the middle of the night, Michael Shenker never backed down. Over the course of his 18 years battling to reclaim abandoned properties on the Lower East Side, Shenker figures he's been dragged away in cuffs at least half a dozen times. He helped stage boisterous protests that shut down community board meetings and holed up with the homeless in an old school on East 4th for six weeks in the dead of winter. Back in 1989, Shenker found himself with a group of squatters who dumped piss on advancing police and city workers in a last-ditch effort to save their building.
For $1, squatters become building owners in NYC. Google Maps. Battle Over 13th Street: Squatter Evictions on the Lower East Side, by Miriam Axel-Lute. May/June 1995 Battle Over 13th Street New York City squatters caught between their need for decent homes and a city bent on privatization. By Miriam Axel-Lute When New York City police arrived around 9:30 a.m. on Tuesday, May 30, to carry out vacate orders for 541 and 545 East 13th Street, they were met by doors welded shut, barricades made of over-turned furniture and trash cans in the street, and 50 to 60 protesters forming a peaceful line in front of the buildings. The squatters facing eviction, joined by non-resident supporters, had been on the streets since 4a.m., watching the barricades, chanting, and drumming on dumpsters. Former squats are worth lots, but residents can't cash in.
Volume 78 - Number 31 / December 31, 2008 - January 6, 2009 West and East Village, Chelsea, Soho, Noho, Little Italy, Chinatown and Lower East Side, Since 1933 Photo by Fly What the abandoned, fire-ravaged tenement building at 209 E.
---