Beauty
Last fall a coworker asked me to make a necklace for his friend who was moving out of the city. Recently they had gone on a trip to Barcelona and picked up rocks along the beach and he wanted me to use those in the necklace. At first I was a little scared to make anything for someone else.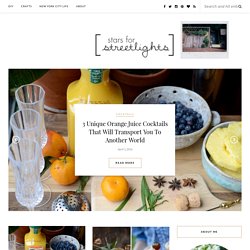 Prometi que o tutorial de hoje ia ser caprichado, não foi? Pois junto com as fotos da maquiagem dos olhos, tem imagens também da preparação da pele e de um penteado simples e bonito para quem tem cabelo fininho. Lembra que fiz uma barganha que se eu conseguisse ficar entre os 10 mais votados no STB Discover ontem, faria um segundo tutorial aqui hoje como forma de agradecimento? Pois já havia passado da meia noite, mas a 00h45 eu estava no top 10 (dança da alegria).
Things From Diva "Tutorial for graduation skin + hair + make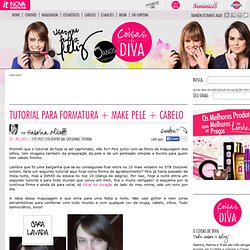 Materials needed: -Pink Nail Polish -Black Nail Polish -Nail design tool (with round pointy metal to create dots) -Base coat -Top coat or dry polish Step 1: Brush the pink polish onto the tip of the nails like so... step 2: Use the tool and dip the end into the black nail polish. ***I found it's actually easier if you place a little bit of the nail polish onto your hand or napkin and use the tool to dip from there*** Step 3: Start making dots on your nails along the pink line...
Nail Art Tutorial: Pink + Black Designs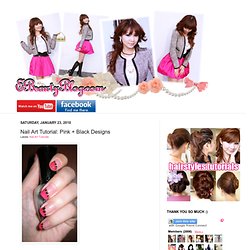 photo: justin coit for thebeautydepartment.com post designed by kristin ess Our email box is literally flooded with requests for updos so here's a fun one to get us all going! This is always a favorite for attending an event. This updo looks gorgeous on any hair color but particularly amazing with hilighted hair because it gives the hair lots of depth and dimension. For lack of a better word, I love the way it becomes "swirly". Best thing is; it's easy to do, gorgeous and keeps your hair out of your way for the night.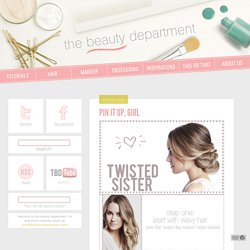 Triple-wrap leather bracelet with blue tigereye beads Let me begin by stating the obvious – this style of wrapped leather bracelet is EVERYWHERE this season. Everywhere! Even my athletic clothing catalogs – which only have maybe three pieces of jewelry – are featuring this style. Why? Because it is casual yet chic and infinitely customizable!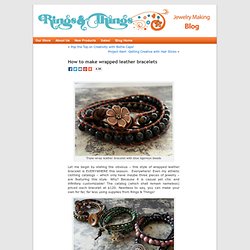 R4y2r.jpg (JPEG Image, 788x3110 pixels)
The waterfall braid also known as the cascade braid recently exploded as the new "trend braid" of the season. The waterfall effect looks cool and complex, but it's easier to style than you think. Give this beautiful braid a try when Beautylish takes you through the how-to! Section Off The waterfall braid works best on straight or loose waves.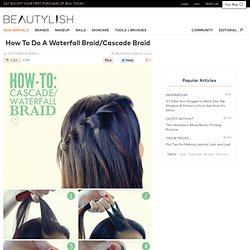 Para habilitar los descuentos por volumen en este sitio, utilice el código de cupón: BULKRATE durante el pago. Verá aparecer un descuento aplicado en la parte inferior de la cesta de la compra. Precios competitivos disponibles. Póngase en contacto con nosotros para más detalles. ¿Qué es el Bulk Rate? BulkRate es un sistema semi-mayorista con artículos con precios separados de la venta al por menor.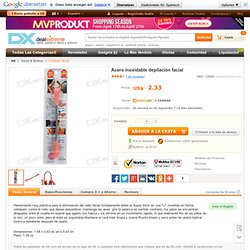 Stainless Steel Facial Hair Remover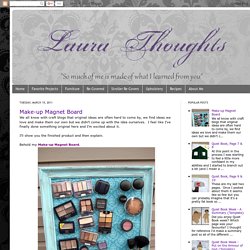 We all know with craft blogs that original ideas are often hard to come by, we find ideas we love and make them our own but we didn't come up with the idea ourselves. I feel like I've finally done something original here and I'm excited about it. I'll show you the finished product and then explain. Behold my Make-up Magnet Board. I have a friend who is beautiful and stylish and has always loved make-up but recently took a course that intensified her love.
Mrs. Priss Headband Makeover {How to Make a Bow} Feb01st2010 Supplies: Headband (mine was busted)Ribbon (I used 7/8″ wide for this size bow, but you should adjust measurements below according to ribbon width)ScissorsHot Glue Gun