GCSE CHEMISTRY - The Best Free Revision for GCSE Science.
Google.
Store.aqa.org.uk/qual/newgcse/pdf/AQA-SCB1FP-QP-MAR12.PDF. GCSE Science. GCSE Science From Wikibooks, open books for an open world Jump to: navigation, search Welcome to the world's foremostGCSE Science Textbook on the web!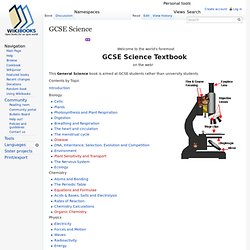 APPLIED SCIENCE UNIT 14. Gcse definitions Atom element molecule compounds pure impure mixture, meaning definitions physical change, evidence of chemical change explained explaining KS3 science KS4 science GCSE IGCSE O Level chemistry revision notes. Section 1.4 CHEMICAL CHANGES - REACTIONS - reactants and products Heating iron and sulphur is classic chemistry experiment to illustrate what is meant by CHEMICAL CHANGE and you can adapt the general conclusions described at the end of this section to any chemical reaction.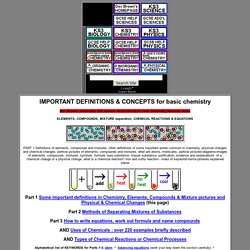 A mixture of silvery grey iron filings and yellow sulphur powder is made. The iron can be plucked out with a magnet i.e. an easily achieved physical separation because the iron and sulphur are not chemically combined yet! They are still the same iron and sulphur. However, on heating the mixture, it eventually glows red on its own and a dark grey solid called iron sulphide is formed. IGCSE/GCSE CHEMISTRY study REVISION NOTES student exam revising help doc brown iphone ipad notepad notebook netbook epad tablet android.
DOC BROWN'S CHEMISTRY REVISION WEBSITE revision notes for GCSE/IGCSE/O level students A NEW more concise button index below, the original detailed index has been left further down the page!
Also note the help pages AQA GCSE SCIENCES * EDEXCEL GCSE SCIENCES OCR GCSE 21st CENTURY SCIENCES * OCR GCSE GATEWAY SCIENCES. GCSE CHEMISTRY - The Best Free Revision for GCSE Science. Atomic Structure and Bonding Carbon, Nitrogen and Water Cycles Catalysts and Energy Crude Oil and its Products Elements, Compounds and Mixtures.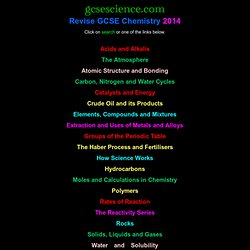 GCSE Chemistry Revision. Store.aqa.org.uk/sciencelab/AQA-CHEM-W-SP-14.PDF. Find past papers and mark schemes for your exams, and specimen papers for new courses.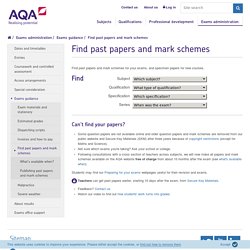 Can't find your papers? Not sure which exams you are taking? Ask your school or college. Anyone can get most of our past papers and mark schemes free of charge from about 9 months after the exam (see what's available when). Some papers are not available online because of copyright restrictions or because the specification is no longer current or is not being offered.
---