Writers_translators
Nataliaz - Translator in Mendoza, Argentina. available now on Tischen. My name is Natalia Zudaire and I am a certified English-Spanish Translator.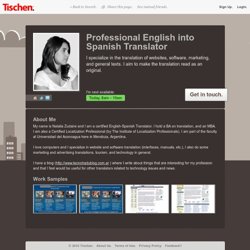 I hold a BA on translation, and an MBA. I am also a Certified Localization Professional (by The Institute of Localization Professionals). I am part of the faculty at Universidad del Aconcagua here in Mendoza, Argentina. I love computers and I specialize in website and software translation (interfaces, manuals, etc.), I also do some marketing and advertising translations, tourism, and technology in general. I have a blog ( ) where I write about things that are interesting for my profession and that I feel would be useful for other translators related to technology issues and news. Smataloni - in Córdoba, Argentina. available now on Tischen.
NancySHGiugliano - Personal Assistant in Brooklyn, NY 11223 available now on Tischen. I have 32 years of informal experience translating documents from Spanish to English and vice versa.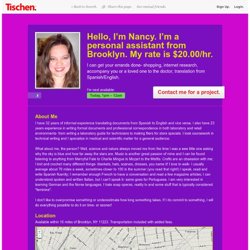 I also have 23 years experience in writing formal documents and professional correspondence in both laboratory and retail environments- from writing a laboratory guide for technicians to making fliers for store specials. I took coursework in technical writing and I specialize in medical and scientific matter for a general audience. What about me, the person? Well, science and nature always moved me from the time I was a wee little one asking why the sky is blue and how far away the stars are. Arina - Accountant in Euclid, OH 44123 available now on Tischen. My experiences include various different areas such as art (drawing/painting), singing, dancing, writing poetry and music, an internship as an accountant, teaching Romanian and tutoring French, Italian and Spanish.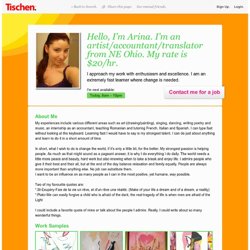 I can type fast without looking at the keyboard. Learning fast I would have to say is my strongest talent. I can do just about anything and learn to do it in a short amount of time. In short, what I wish to do is change the world, if it's only a little bit, for the better. My strongest passion is helping people.
---