Europe
Dream Toys 2011 | Toy Retailers Association
Welcome to the Toy Retailers Association, the voice for toy retailers in the UK & Ireland. Representing more than 60% of the toy trade, the Association's role is to inform and advise members on current and future legislation, as well as ethical practices in respect of toy safety, requirements under the Health and Safety Executive, consumer and employment rights. It acts as both a watchdog and persuader to ensure fair play for toy retailers and represents the toy retail sector on government panels and safety organisations in the UK & Europe. If you cannot find the information you are looking for, please do not hesitate to contact us.
Toy Safety Standards for Child Development Toys and Fun Children Activities, London UK
The British Toy & Hobby Association was established in 1944 to represent the interests of British toy manufacturers and to raise standards of practice in the industry. Today it has around 140 members ranging from international toy giants to small family-run businesses that together account for over 90% of the UK toy market. Membership of the British Toy & Hobby Association shows the member's commitment to adhere to the BTHA Code of Practice under the umbrella of the Lion Mark which includes rules covering ethical and safe manufacture of toys, toy safety, a ban on counterfeit goods, an assurance to market responsibly, a commitment to improving sustainability and a desire to promote the value of all play through support of the Make Time 2 Play campaign. Our members are manufacturers committed to making good quality toys in a responsible way. The BTHA also administers the Toy Trust- the industry's charity.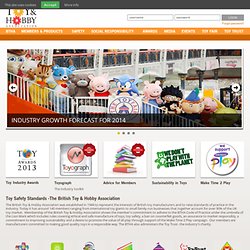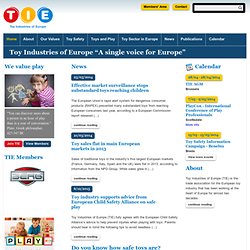 TIE - Toy Industries of Europe
News 25/03/2014 Effective market surveillance stops substandard toys reaching children The European Union's rapid alert system for dangerous consumer products (RAPEX) prevented many substandard toys from reaching European consumers last year, according to a European Commission report released (...)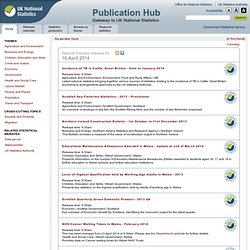 Incidence of TB in Cattle, Great Britain - Data to January 2014 Release time: 9:30am Agriculture and Environment | Environment, Food and Rural Affairs | GB Latest national statistics bringing together various sources of statistics relating to the incidence of TB in Cattle, Great Britain according to arrangements approved by the UK Statistics Authority. Regional labour market statistics - April 2014 Labour Market | Office for National Statistics | UK