Desserts
Pudding Cups. Wicked Good Chocolate Peanut Butter Pudding Cups.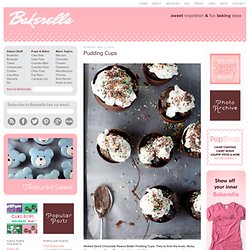 They're from the book, Sticky, Chewy, Messy, Gooey Treats for Kids by Jill O'Connor and just as good as their name states. Jill sent me and my niece a copy of her book as a little thank you for a post I did inspired by her Cheesecake Pops. Chocolate Peanut Butter Banana Pudding. Okay, so I got a bit excited about jars and handheld pi es my last post.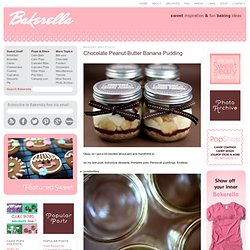 Individual desserts. Portable pies. Personal puddings. Homemade Buttermilk Doughnuts. Well, I told you earlier this week that when I made the Easy Homemade French Fries it was my first jump into the world of deep frying, and these doughnuts would be my second dip.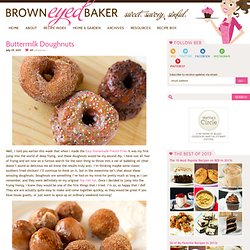 I have lost all fear of frying and am now on a furious search for the next thing to throw into a vat of bubbling oil (that doesn't sound as delicious we all know the results truly are). I'm thinking maybe some classic southern fried chicken? I'll continue to think on it, but in the meantime let's chat about these amazing doughnuts. Chocolate Chip Cookie Dough Dip. Chocolate Chip Cookie Dough Dip It's time for a little confession.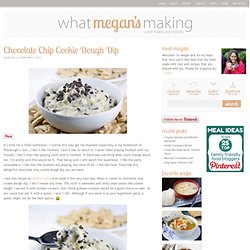 I realize this may get me shunned (especially in my hometown of Pittsburgh!) , but….I don't like football. I don't like to watch it, I never liked playing football with my friends, I don't even like playing catch with a football. If there was one thing Mike could change about me, I'm pretty sure this would be it. Chocolate Chip Cookie n' Oreo Fudge Brownie Bar.
On Wednesday, I wondered what would happen if you combined Oreo Stuffed Chocolate Chip Cookies with Oreo Stuffed Brownies.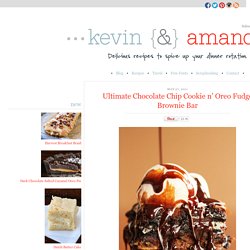 On Thursday I found out. And on Friday…
Cheesecake. Cakes and Cupcakes.
---