Windows
Quoting from anbecom.com Jason Mattox from vizioncore has provided the following information for people looking to use some of the low-cost storage alternatives available in VI3. This particular setup uses a Windows machine and Windows Services for UNIX to create an NFS share that can be mounted to an ESX host for Virtual Machine, Template or ISO storage. The following URL also has a detailed description of NFS Authentication when using WSFU and was utilized to create this quick-start guide:http://www.microsoft.com/technet/interopmigration/unix/sfu/nfsauth.mspx The main steps in this process are:
Using Windows-based NFS in VI3 : VMblog.com - Virtualization Technology News and Information for Everyone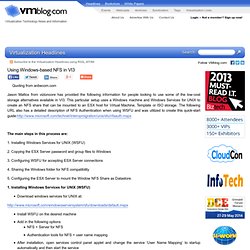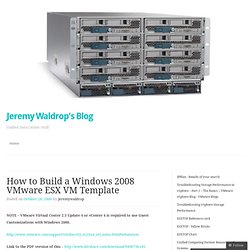 NOTE – VMware Virtual Center 2.5 Update 4 or vCenter 4 is required to use Guest Customizations with Windows 2008. http://www.vmware.com/support/vi3/doc/vi3_vc25u4_rel_notes.html#whatsnew Link to the PDF version of this – http://www.divshare.com/download/9496736-c61 For Windows 2008 R2 if you are installing on vSphere 4 without Update 1 or on ESX 3.5 without update 5 set the Template VM OS to Windows 2008 instead of Windows 2008 R2. After a new VM is deployed from the template and guest customization as finished you can set the OS back to Windows 2008 R2.
How to Build a Windows 2008 VMware ESX VM Template « Jeremy Waldrop's blog