Password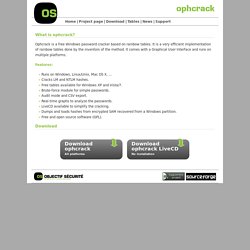 What is ophcrack? Ophcrack is a free Windows password cracker based on rainbow tables. It is a very efficient implementation of rainbow tables done by the inventors of the method. It comes with a Graphical User Interface and runs on multiple platforms.
What is KeePass? Today you need to remember many passwords. You need a password for the Windows network logon, your e-mail account, your website's FTP password, online passwords (like website member account), etc. etc. etc. The list is endless. Also, you should use different passwords for each account. Because if you use only one password everywhere and someone gets this password you have a problem...
The Enterprise Password Safe is designed to solve the problem of password management, protection, and access auditing in multi-user, multi-system environments. The EPS doesn't require you to alter your infrastructure to accommodate it. It can use Microsoft SQL Server, Oracle, IBMs' DB2, MySQL, PostgreSQL, or HSQLDB to store data and allows you to create backups using any solution approved by the database vendor. You can recover from the loss of the EPS and associated database server by restoring the database, installing a new copy of the EPS, and pointing the new EPS at the recovered database. It's as simple as that.
Enterprise Password Safe - Information