To Make
You are my sunshine 13w x 24 1/2h handpainted wood par OttCreatives
Personalized Mother's Day Burlap Print par BurlapByEverAfter
Great Mother's Day Gift What a difference a par DeeSignsByDeanna
Bible Verse Art Her Children Rise Up and Call par graceforgrace
Lace Back Tank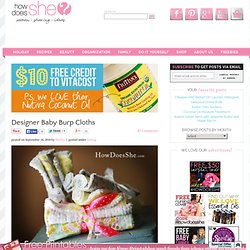 Gorgeous Designer Baby Burp Cloths
I must tell you I don't really know how to sew. There. I said it. Somehow I've tricked all my friends in to thinking I do.
Here is the tutorial I promised! When I first started making blankets I really struggled with sewing "Minky" (which is a super-soft, fleecy material, sometimes seen written as "Minkee").Why is Minky so difficult to deal with? Well, it is slippery stuff. It stretches and slides and is basically a pain in the neck if you don't tell it who's boss! I had a few cursed attempts in which much swearing and ripping of stitches occurred.
Minky blanket tutorial.