E_readers 2
Plastic Logic
enTourage eDGe™ Store - enTourage eDGe
enTourage eDGe™ Store - Home The enTourage eDGe store has closed as of 05/21/2011. We appreciate all of our customers and want you to enjoy your enTourage eDGe for the foreseeable future. We have shut down our content store but we made sure you still had an option.
VEB625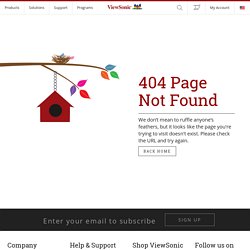 Skip to content Products Shop Support
Viewsonic » LCD TVs, LCD Monitors, LCD Projectors, Digital Photo Frames from Viewsonic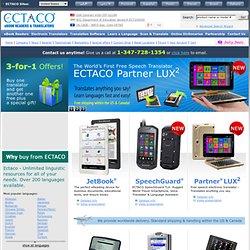 ECTACO, Inc. is a leading US-based developer and manufacturer of electronic handheld dictionaries, translation software and eBook readers. Founded in 1990, ECTACO has specialized in language learning products for over 218 languages with over 300 models of electronic dictionaries distributed among the brands Language Teacher, Partner, SpeechGuard and iTravl. ECTACO portable devices promote users to learn a language and are divided into the following categories: talking electronic dictionaries, non-talking electronic dictionaries, travel electronic dictionaries, English dictionary software, language learning, and speech-to-speech electronic interpreters, including Military, Law Enforcement and Medical models. Many of our translators have speech recognition and speech analysis technology for quick and efficient foreign language studies.
ECTACO - Electronic Dictionary, Handheld Electronic Dictionaries, Electronic Translator, Translation Software, Ebook Reader.
Sales inquiries: call us at 1-347-728-1354 or e-mail us. ECTACO jetBook Color 2 The ultimate solution for classrooms worldwide. Already implemented in Eastern Europe and Asia, the jetBook Color is the only eReader system in the world currently using a full Color e-Ink screen and comes set to each individual students needs right out of the box.
jetBook