Firefox & firefox4 info
Mozilla Firefox
Google's new web video standard seems to be gathering a bit of momentum, as today Firefox is following in the ultrafast steps of Chrome by offering built-in support for WebM video. Bugs are still being worked out, but the fundamentals are there, and we'll hopefully see all kinks ironed out in time for the release of Firefox 4 Beta, which is expected to land later this month. This is now the third big browser to announce compatibility, with Microsoft already promising it for IE 9, provided users download the necessary VP8 codec first. The HTML5-obsessed Apple hasn't yet decided which way it's going with the standard while Opera is presumably busy figuring out how to parody the whole thing in video form.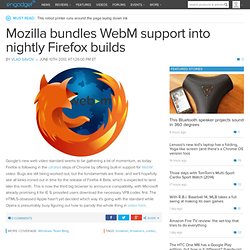 Mozilla bundles WebM support into nightly Firefox builds -- Enga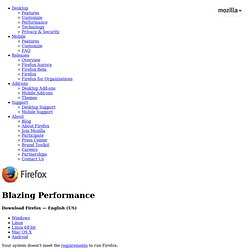 Firefox 4 Beta Technology
Fasten your seat belts! With lightning fast start-up times, rapid graphics rendering and improved page load speed, the latest version of Firefox is full of performance enhancements that you'll notice instantly. Web applications like mail, video and games keep getting more awesome, but they also require additional power to run smoothly. To meet these increasingly sophisticated demands, our latest release features a massively improved JavaScript engine called JägerMonkey.
Firefox 4 Beta 1 now available for download
Whoa, Nelly! Is that a Firefox 4 download button we're looking at? Why yes... yes it is! We can't think of a much better way to wrap up one's workday than by finding out that Mozilla's own Firefox browser has finally made the official leap to 4.0, with Beta 1 going live for the adoring public today. It's ready to be sucked down and installed for those with Windows, Linux and OS X-based machines, and the changelog itself is far too lengthy for this space (though it's linked below for your perusal). You'll obviously notice an overhauled look hitting you front and center, with a new add-on manager, support for the new WebM format, improved privacy settings and crash protection headlining the "big chart o' features."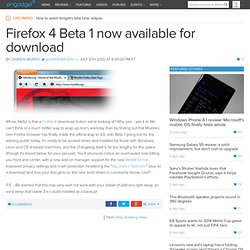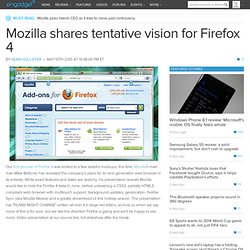 Mozilla shares tentative vision for Firefox 4
Our first glimpse of Firefox 4 was limited to a few tasteful mockups; this time, Mozilla's main man Mike Beltzner has revealed the company's plans for its next generation web browser in its entirety. While exact features and dates are sketchy, his presentation reveals Mozilla would like to hold the Firefox 4 beta in June, before unleashing a CSS3, partially HTML5 compliant web browser with multitouch support, background updates, geolocation, Firefox Sync (aka Mozilla Weave) and a greatly streamlined UI this holiday season. The presentation has "PLANS MIGHT CHANGE" written all over it in large red letters, so trust us when we say none of this is for sure, but we like the direction Firefox is going and we'll be happy to see more. Video presentation at our source link, full slideshow after the break. Comments