Amazon Kindle
Amazon Kindle dual-screen e-reader patent granted, Barnes & Nobl. Looks like the battle for e-reader dominance between Amazon and Barnes & Noble could soon expand beyond the recent spate of pricedrops and into the courtroom as well: the USPTO just granted a 2006 Amazon patent on e-readers with secondary LCD displays (like the original Kindle's scroller-navigation panel), and several of the claims are potentially broad enough to cover the Nook and many other devices with both electronic paper and LCD displays.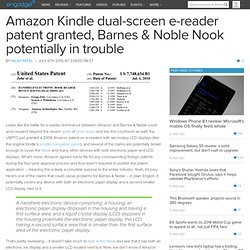 What's more, Amazon agreed not to file for any corresponding foreign patents during the four-year approval process and thus wasn't required to publish the patent application -- meaning this is likely a complete surprise to the entire industry. Yeah, it's juicy. Here's one of the claims that could cause problems for Barnes & Noble -- in plain English, it potentially covers any device with both an electronic paper display and a second smaller LCD display next to it.
Amazon Kindle 2
Amazon Kindle 3. Amazon Kindle DX. Kindle Vs Nook. Over the past few years, the market for eReaders has grown exponentially.
Competition between eReader products like Kindle from Amazon and Barnes & Noble's Nook is only increasing by the day. Both products have their positives as well as limitations. It will be interesting to see what new improvements have been incorporated by these companies in their respective products. Taking into account the improvements made to these products, it is quite a tough job to compare them. While Kindle has the trust of the majority of eReader buyers, Nook is kind of a rebel, challenging the established order.
---