Funny
KeepBusy.net - Be Entertained
Whose Line is it Anyway?
Epic Fail Funny Videos and Funny Pictures
The Escapist
Cracked.com - America's Only Humor & Video Site Since 1958
wwwBLACK20com's Channel
ZUG: Real-Life Pranks, Stunts, and Experiments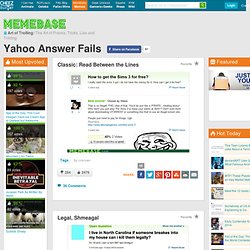 Yahoo Answer Fails
Yahoo Answer Fails Share on Facebook58 Most Upvoted 365 votes Two Cats Sharing One Heart
GorillaMask.net: Where Productivity Goes to Die
FML: Your everyday life stories
::iLL WiLL PreSS:: HOME OF NEUROTICALLY YOURS, 4Y-RECORDS & MORE.
There, I Fixed It - Redneck Repairs
Damn You Auto Correct! - Funny iPhone Fails and Autocorrect Horror Stories
Lolcats 'n' Funny Pictures of Cats - I Can Has Cheezburger?
Stuff On My Cat - Stuff + Cats