Podmydev
Émissions - Pod My Dev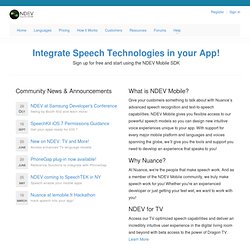 Nuance | NDEV Mobile | Login
What is NDEV Mobile? Give your customers something to talk about with Nuance's advanced speech recognition and text-to-speech capabilities. NDEV Mobile gives you flexible access to our powerful speech models so you can design new intuitive voice experiences unique to your app. With support for every major mobile platform and languages and voices spanning the globe, we'll give you the tools and support you need to develop an experience that speaks to you! Why Nuance?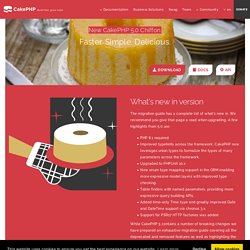 Batteries Included The things you need are built-in. Translations, database access, caching, validation, authentication, and much more are all built into one of the original PHP MVC frameworks. Clean MVC Conventions
chrome.tts - Google Chrome Extensions - Google Code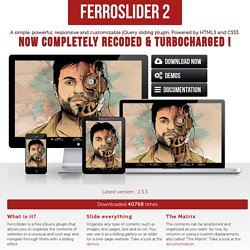 A simple, powerful, responsive and customizable jQuery sliding plugin. Powered by HTML5 and CSS3. Latest version : 2.3.3 Downloaded 25554 times What is it? FerroSlider is a free jQuery plugin that allows you to organize the contents of websites in a unusual and cool way and navigate through them with a sliding effect.
:: Alessandro Ferrini :: FerroSlider jQuery Plugin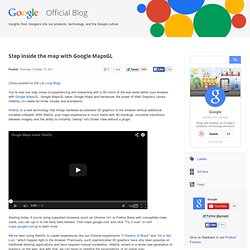 (Cross-posted on the Lat Long Blog) You're now one step closer to experiencing and interacting with a 3D mirror of the real world within your browser with Google MapsGL. Google MapsGL takes Google Maps and harnesses the power of Web Graphics Library (WebGL) to create far richer visuals and animations. WebGL is a new technology that brings hardware-accelerated 3D graphics to the browser without additional installed software.
Step inside the map with Google MapsGL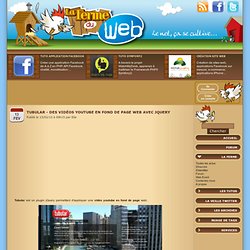 Tubular - Des vidéos youtube en fond de page web avec jQuery
Tubular est un plugin jQuery permettant d'appliquer une vidéo youtube en fond de page web. Vous souhaitez mettre en place un background original et animé sur votre site web ? Tabular est fait pour vous. Il permet d'ajouter en une ligne Javascript la vidéo youtube de votre choix en background. Le script va tout simplement jouer sur les z-index du conteneur de la page et de celui de la vidéo pour mettre en arrière plan la vidéo. Il utilise SWFObject pour embed la vidéo, puis du jQuery pour gérer dynamiquement la taille de la vidéo quelque soit la dimension de l'écran.
Sequence.js – The jQuery Slider Plugin with Infinite Style
ReformedApp