Android
Mobizen - completely control your Android from computer, anywhere! By Antonio Wells Sep 10, 2014 6:00 AM – Install Mobizen is an absolute must have app.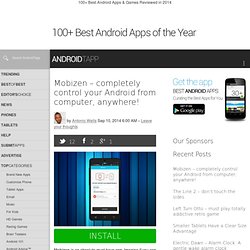 Imagine if you can completely control every aspect of your Android phone or tablet remotely from your computer either plugged in via USB or wirelessly over WiFi or your mobile data carrier… Mobizen unleashes this awesomeness! There's plenty more goodies here like recording the screen without root, take screenshots or even transfer files. Download it now and watch this video review! Applications du Net, programmes gratuits et astuces pratiques: Andy pour installer les applications Android sur son ordinateur. Bluestacks est un des meilleurs programmes qui permettent d'utiliser les applications Android sur un ordinateur.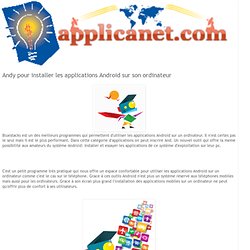 Il n'est certes pas le seul mais il est le plus performant. Dans cette catégorie d'applications on peut inscrire And.
Tablettes. Votre trousse à outils d'applications pour Free Mobile. 10fév Pratiquement 1 mois après le lancement de Free Mobile qui a fait quelques vagues (tempête ?)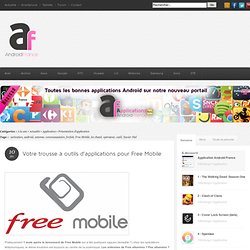 Chez les opérateurs téléphoniques, le 4ème troublion est toujours au centre de la polémique. Les antennes de Free allumées ? Pas allumées ?
Forums. Android Apps. Actu. Hacks. Dev. Google Android. Applications android - usages quotidiens.
---