Videos
Battle of Branchage
3D Projection Mapping promoting The Tourist in Dallas
3D Projection Mapping
Визуальное 4D шоу в Лионе
Boom-Box (Architecture 1024)
I Like You Better On Facebook (MUSIC VIDEO)
Shit Girls Say - Episode 1
Why 'Back to the Future' Is Secretly Horrifying
Viral Video Chart
time displacement experimental video
7D Cinema
Sh*t Real Estate Agents Say
Secret John Lennon interview
Sony BRAVIA Paint Advert (HD) High Definition
Sony Bravia Foam Commercial
Speeding Around The World in Under 5 minutes Time Lapse
100 GREATEST HITS OF YOUTUBE IN 4 MINUTES
A Tiny Apartment Transforms into 24 Rooms
Make It Count
ZeitgeistMovie
Blake Griffin: Narrow World of Sports
Hyperactive - Lasse Gjertsen
Cat Jump Fail with Music: Sail by AWOLNATION
Funny cats in water, EPIC
Britain's Got More Talent 2009 - Eugene
Stevie Starr - Britain's Got Talent 2010 - Semi-final 1
First Follower: Leadership Lessons from Dancing Guy
1988 Paul Hunt gymnastics comedy beam routine
Johnny Carson
Before there was Conan... before there was Jay... there was Johnny.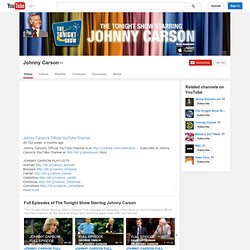 While the innocence of 19-year-old Australian hurdler Michelle Jenneke's warm-up routine is debatable, there's no two ways about the slow-motion re-cut of it that went viral last week. Yes, her milkshake brought all the boys to the Web.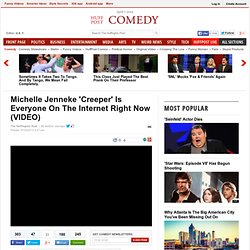 Michelle Jenneke 'Creeper' Is Everyone On The Internet Right Now (VIDEO)
Doodling in Math: Spirals, Fibonacci, and Being a Plant [1 of 3]
Castle Optical Afterimage Illusion
Lady Gaga's Poker Face read by Christopher Walken - Friday Night with Jonathan Ross - BBC One
THE EGG DA VINCI
FUNNY FRUITS & VEGGIES You Don't Want To Eat....NOT THE EVIL TWIN...NEVER!!!!!
Escultura em frutas e legumes II Amélia M. Ouchi
How to legally rob a bank
Free Hugs Campaign - Official Page (music by Sick Puppies.net )
Atomic Table : Homemade nuke
hang cousin's best of hang duo 2010
Statoil: Bad morning?
The Start of a very bad day
Cool Things on YouTube and More! DONG #19
LEGO TACO! And Other Great Images -- IMG! Episode #47
The Aurora on Vimeo
Watch: A Collection of the 25 Greatest Unscripted Scenes in Movies
by Ethan Anderton August 15, 2011Source: YouTube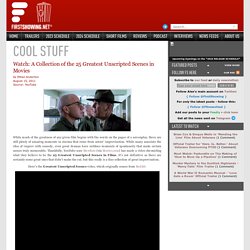 Copper Pipe Magnet
NEUROSONICS LIVE
DJ Titon - Windows
Dakuwaqa's Garden - Underwater footage from Fiji & Tonga
Birds-of-Paradise Project Introduction
MinutePhysics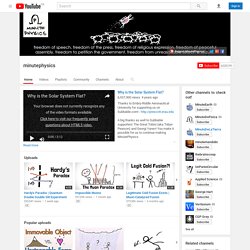 Welcome to YouTube!
PBS Off Book
Cotton Candy Pro
Holes Of Happiness
25 YouTube Comments That Are Actually Funny
Mad TV - The Keanu Reeves School of Acting
Evidence Of Ninja Cats
Take_0032.mov
PEOPLE ARE AWESOME
Sharpie - Start with Sharpie - Draftfcb
Top 10 Funniest Book Titles Ever
What is Cool?
TARZAN YELL 1981 from Bo Derek's, "Tarzan, the Ape Man"
A Time-Lapse Map of Every Nuclear Explosion Since 1945 - by Isao Hashimoto
Liquefaction video of Japan Tohoku-Oki Earthquake in Central Park - Water pouring from cracks
Secret Places of The Earth 2 (By Argosax)
Everything is a Remix Part 2 on Vimeo
Everything is a Remix Part 3 on Vimeo