SEO and Local
SMX East 2012 Live Blogging Coverage: Day Two. SEO articles, learn about SEO on Seopher.com. Top SEO Gurus : They Dared to be Different. If you don't know these top SEO Gurus in the land yet, here is a shortlist for you.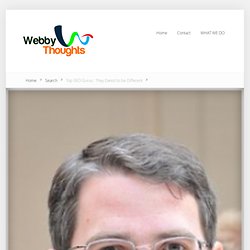 SEO has slowly and consciously come into our midst. It has proven to be a strong career that anyone could certainly learn, get into and succeed too. 2014 Industry Survey. From the distracting flutter of Hummingbird to the deafening silence of (not provided), the past year was eventful for the online marketing industry.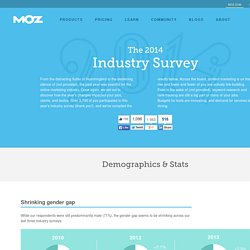 Once again, we set out to discover how the year's changes impacted your jobs, clients, and tactics. Over 3,700 of you participated in this year's industry survey (thank you!) , and we've compiled the results below. Across the board, content marketing is on the rise and fewer and fewer of you are actively link-building. Even in the wake of (not provided), k. Web Developer's Handbook | CSS, Web Development, Color Tools, SEO, Usability etc.
Vitaly Friedman's The Web Developer's Handbook creativity | css galleries & showcases | color tools | color schemes, palettes | color patterns | fashion: colors selection | color theory | royalty free photos | css daily reading | web design daily reading | css layouts | css navigation menus | css techniques | css: software & Firefox Extensions | css-web-tools & services |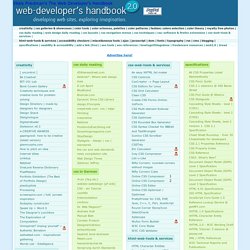 The Increasing Complexity of the Organic SEO Task List for 2012 & 2013. Ideally a blog post should be written and formatted for the web, meaning it should be short, snappy and image-rich.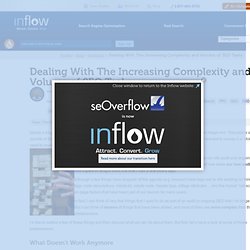 This post is exactly the oposite of that. Do as I say, not as I do? After beating myself up about it I concluded that the message I wanted to convey (i.e. Holy CRAP we need to know a lot of stuff these days!) SEMMYS.org: Honoring Great Search Marketing Content Online.
Keyword Tools. Local Listings. Panda and Penguin Updates. How Google Will Know If You're Lying. A Soothsayer from the Sibylline Sisterhood was the first of her Sisterhood to see the TARDIS The value of any piece of information is only as good as its truthfulness.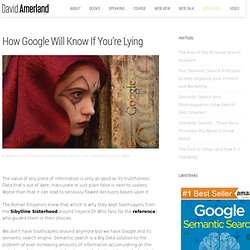 Data that's out of date, inaccurate or just plain false is next to useless. Worse than that it can lead to seriously flawed decisions based upon it. We don't have Soothsayers around anymore but we have Google and its semantic search engine. SEO Software and SEO Tools | Top 10 Rank Guarantee | SEO PowerSuite. Is this the 'NEW' SEO? Subscribe to Noble Samurai News and get updates every time we publish a blog article.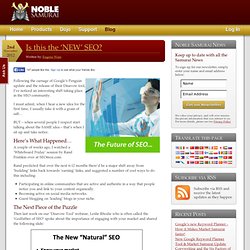 Register for a free trial of our Market Samurai Keyword Research and SEO software Get my free trial! Following the carnage of Google's Penguin update and the release of their Disavow tool, I've noticed an interesting shift taking place in the SEO community. I must admit, when I hear a new idea for the first time, I usually take it with a grain of salt… BUT – when several people I respect start talking about the SAME idea – that's when I sit up and take notice.
Grab your FREE guide to 2013 SEO. Ready for 2013 SEO changes?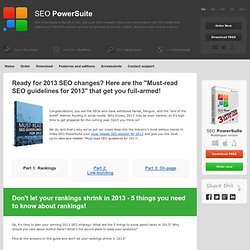 Here are the "Must-read SEO guidelines for 2013" that get you full-armed! Congratulations, you are the SEOs who have withstood Panda, Penguin, and the "end of the world" memes flooding in social media. Who knows, 2013 may be even harsher, so it's high time to get prepared for the coming year. SEO Checklist for New Websites - DIY Search Engine Optimization. Marketing Whitepapers & Ebooks. The Hidden Cost Of Cheap SEO & Social Media Labor. Fact: All businesses, large or small, want to save money wherever they can.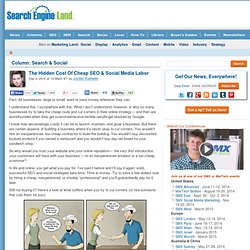 I understand this. I sympathize with this. What I don't understand, however, is why so many businesses try to take the cheap route and cut corners in their online strategy— and then are dumbfounded when they get scammed/receive terrible results/get blocked by Google. I know how devastatingly costly it can be to launch, maintain, and grow a business. But there are certain aspects of building a business where it's never okay to cut corners. What is the single best piece of SEO advice.
7 Link Quality Metrics That Matter. The classic way that people have determined link value is by using Google PageRank.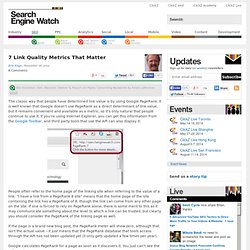 It is well known that Google doesn't use PageRank as a direct determinant of link value, but it remains convenient and available as a metric, so it's only natural that people continue to use it. If you're using Internet Explorer, you can get this information from the Google Toolbar, and third party tools that use the API can also display it: People often refer to the home page of the linking site when referring to the value of a link: "I have a link from a PageRank 8 site" means that the home page of the site containing the link has a PageRank of 8, though the link can come from any other page on the site. If one is forced to rely on PageRank alone, there is some merit to this as it may communicate something about the level to which a link can be trusted, but clearly you should consider the PageRank of the linking page as well.
SEO - Frequently Asked Questions. Other Factors ("Advanced" SEO) What other factors affect rankings besides backlinks?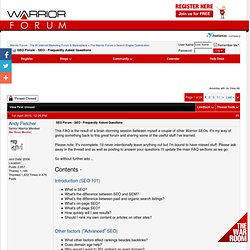 Where you're getting your links, the quality of these links, the relevancy of these links, how many links you have and what keywords you're using as the anchor text all affect your rankings. But there are other factors that affect your ranking, including but not limited to: On page optimization factors – this is how well you've optimized your tags, content, formatting, keyword proximity, site map, and links on your web page. SEO Trends: 7 Hot Trends you'd be foolish to ignore. 833 Flares Twitter 425 Facebook 0 Google+ 189 LinkedIn 100 inShare100 Buffer 119 833 Flares × If you're not tracking and taking advantage of the major changes that Google is making to their search algorithm you are missing out on some really valuable opportunities to help you rank for content now or in the future. Are you aware of the changes that are happening now and likely to happen? What plans have you put in place to deal with these? Here are 7 SEO Trends that you should really consider for your business. 1.
The Periodic Table Of SEO Ranking Factors. Charity SEO Book: The Non-profit's Guide to Search Engine Marketing. Local SEO for WordPress. Looking for SEO Specialists for Your Business? Few would argue that most businesses can benefit from improving their online presence.
Even traditional brick and mortar businesses can benefit by attracting new customers looking for relevant services online. Because of this, the online landscape is becoming more and more competitive, and ranking on the first page of Google's search results can be extremely hard in certain industries. We're all busy people, just running the day-to-day operations of our business can take up more time than we have – so it can be difficult to give marketing and Search Engine Optimisation (SEO) strategies the attention they require to be efficient. SEO Opportunities Begin Well Before New Website Development.
Launching a new site, or any major site update, for a large enterprise comes with some unique challenges. A short summary of some of the most common include those listed below. SEO Challenges: New Site Launch Or Major Updates. WTF is SEO? Ever had a massive, life-changing epiphany? Me neither. However, I've slowly reached the conclusion that we're doing SEO all wrong. Newbie PPC. Video: PPC Account Review Webinar w/ Joel McDonald. Google changes SEO forever with it's Disavow Link Tool – What you Need to Do Right Now… Google Launches Disavow Links Tool. Beware Google Bearing Gifts… | Ed Dale's Blog. SEO: The Free Beginner's Guide From SEOmoz.
Google's SEO Starter Guide. SEO Strategy-Not Just Tactics. 55 Quick SEO Tips Even Your Mother Would Love. SEO Techniques that Have Stood The Test Of Time: Part 1 of 11 — WSI Web Systems - Internet Marketing | Central Jersey. A Technical SEO Guide to Crawling, Indexing and Ranking - State of Search. Webmaster Guidelines - Webmaster Tools Help. Why You Shouldn't Use Google's New "Disavow Links" Tool. WordPress SEO Tutorial - The Definitive Guide. SEO.
---