Inspirational Photography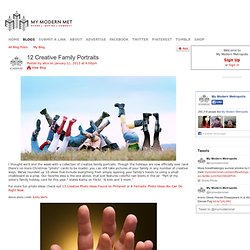 I thought we'd end the week with a collection of creative family portraits. Though the holidays are now officially over (and there's no more Christmas "photo" cards to be made), you can still take pictures of your family in any number of creative ways. We've rounded up 10 ideas that include everything from simply layering your family's hands to using a small chalkboard as a prop.
12 Creative Family Portraits
15 Beautiful & Mystical Space Photos
These eerie, dark, pillar-like structures - part of the Eagle Nebula - are columns of cool, interstellar hydrogen gas and dust that serve as incubators for new stars - Hubble Space Telescope 1995. On its 100,000th orbit of planet Earth, the Hubble Space Telescope peered into a small portion of the Tarantula Nebula near the star cluster NGC 2074, unveiling its stellar nursery. The region is a firestorm of raw stellar creation, triggered perhaps by a nearby supernova. 3.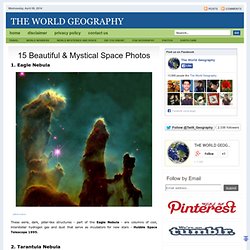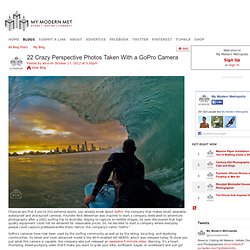 Chances are that if you're into extreme sports, you already know about GoPro, the company that makes small, wearable, waterproof and shockproof cameras. Founder Nick Woodman was inspired to start a company dedicated to adventure photography after a 2002 surfing trip to Australia. Hoping to capture incredible images, he soon discovered that high quality equipment could not be obtained for reasonable prices.
22 Crazy Perspective Photos Taken With a GoPro Camera
32 Pictures That Will Make You Say Awwwwwwww
1150 Pixel Photography Magazine | PhotoExtract
Associated Press photographer Anja Niedringhaus was killed today, shot to death by an Afghan policeman while covering the upcoming national election. She covered conflicts from Bosnia to Afghanistan for more than 20 years, earning a Pulitzer Prize in 2005, as part of a team of AP photographers covering the Iraq War. Last November I was very happy to be able to feature her amazing work in a photo essay titled "Afghanistan: Seen Through the Lens of Anja Niedringhaus." What I wrote then remains true: Documenting a decades-long story like the Afghanistan War is a challenge for any photojournalist, from simple logistical issues, to serious safety concerns, to the difficulty of keeping the narrative fresh and compelling. Niedringhaus did a remarkable job, telling people's stories with a strong, consistent voice, an amazing eye for light and composition, and a level of compassion that clearly shows through her images. A remarkable voice has been lost today. [30 photos]
In Focus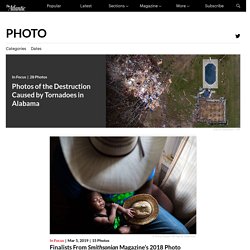 Lily Pond Lilies and Lotus Flower Paintography by Ray Bilcliff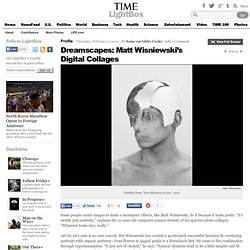 Matt Wisniewski combines old and new in his beautiful photo collages.
Some people create images to make a statement. Others, like Matt Wisniewski, do it because it looks pretty. "It's mostly just aesthetic," explains the 21-year-old computer science student of his spectral photo collages. "Whatever looks nice, really." Art for art's sake is no new conceit.
National Geographic is currently holding its annual photo contest, with the deadline for submissions coming up on November 30. For the past nine weeks, the society has been gathering and presenting galleries of submissions, encouraging readers to vote for them as well. National Geographic was kind enough to let me choose among its entries from 2011 for display here on In Focus. Gathered below are 45 images from the three categories of People, Places, and Nature, with captions written by the individual photographers. [45 photos] Use j/k keys or ←/→ to navigate Choose: Many people pilgrimage to Uluru, but what is seen there often depends on where you've come from.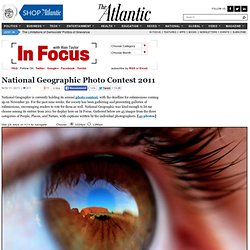 National Geographic Photo Contest 2011 - Alan Taylor - In Focus
Photo Gallery, Photo Galleries, Art Gallery, Photography, Buy Prints
Photo dictionary - photo/picture definition at Photo Dictionary in English
Photograph courtesy Russell Watkins, U.K. Department for International Development Trees shrouded in ghostly cocoons line the edges of a submerged farm field in the Pakistani village of Sindh, where 2010's massive floods drove millions of spiders and possibly other insects into the trees to spin their webs.
Pictures: Trees Cocooned in Webs After Flood
These 50 Photos Will Blow you Away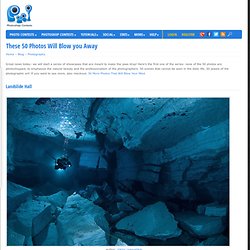 Great news today: we will start a series of showcases that are meant to make the jaws drop! Here's the first one of the series: none of the 50 photos are photoshopped, to emphasize the natural beauty and the professionalism of the photographers. 50 scenes that cannot be seen in the daily life, 50 jewels of the photographic art! If you want to see more, also checkout: 50 More Photos That Will Blow Your Mind Landslide Hall Clouds on Fire Marpissa Muscosa
Trey Ratcliff I'm a warm-hearted, old-school gentleman explorer with really cool toys. INTJ. Browncoat.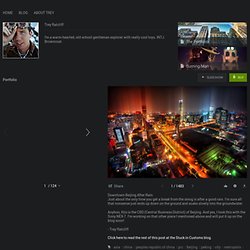 Your Favorites - Enjoy! - Trey Ratcliff | Stuck In Customs | HDR Photography Portfolio
What In The?!: INSANE Posed Ant Photography
Russian photographer Andrey Pavlov takes insane macro pictures of LIVE ants by spending hours and hours playing with them and posing them to get the perfect shot. I...can't even believe half of them are real. Of course I have zero experience posing ants and have only burnt them with a magnifying glass, so maybe it's actually easier than I thought. Hit the jump for a smattering of the VERY worthwhile shots, and a link to the entire collection with a ton more.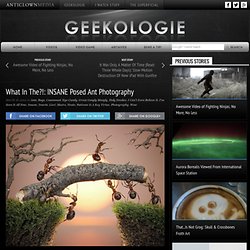 When Graphic Artists Get Bored - The Worthympic Games 7 [Worth1000]