Firefox | Chrome SEO Addons
Firefox 4 User Interface Overview
Mozilla Firefox
Time Management :: Collections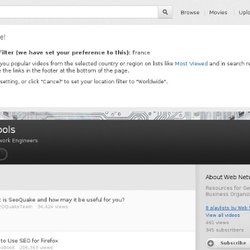 Welcome to YouTube! The location filter shows you popular videos from the selected country or region on lists like Most Viewed and in search results.To change your location filter, please use the links in the footer at the bottom of the page. Click "OK" to accept this setting, or click "Cancel" to set your location filter to "Worldwide". The location filter shows you popular videos from the selected country or region on lists like Most Viewed and in search results. To change your country filter, please use the links in the footer at the bottom of the page. About Web Network Engineers
SEO Tools
SearchStatus | Firefox SEO Toolbar Extension
SearchStatus is a toolbar extension for Firefox and SeaMonkey that allows you to see how any and every website in the world is performing. Designed for the highly specialised needs of search engine marketers, this toolbar provides extensive search-related information about a site, all conveniently displayed in one discreet and compact toolbar. For every site you visit using, SearchStatus lets you view its Google PageRank, Google Category, Alexa popularity ranking, Compete.com ranking, SEOmoz Linkscape mozRank, Alexa related links and backward links from Google, Yahoo! and MSN.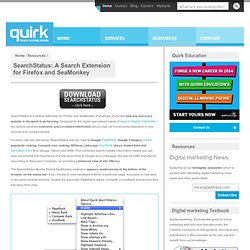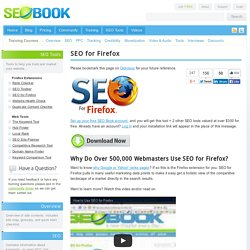 Please bookmark this page on Delicious for your future reference. Set up your free SEO Book account, and you will get this tool + 2 other SEO tools valued at over $300 for free. Already have an account? Log in and your installation link will appear in the place of this message. Why Do Over 500,000 Webmasters Use SEO for Firefox? Want to know why Google or Yahoo!
SEOquake parameters Users can create their own parameters for SEOquake. In order to do so: open SEOquake preferences, switch to bookmark Parameters, press the button New and fill required fields.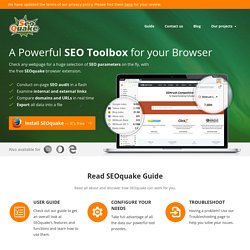 SEO Doctor
Explore the MozBar MozBar lets you: Access important SEO metrics at a glance as you surf the Web.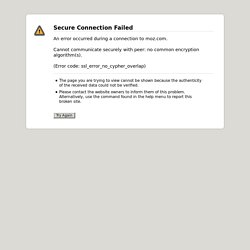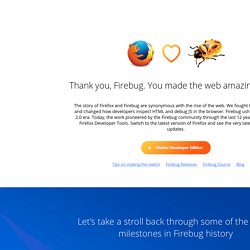 getfirebug.com has Firebug 2.0 alpha 1 Firebug 2.0a1 fixes 172 issuesFirebug 2.0a1 is compatible with Firefox 30-31 Update: an issue with Firefox 30 compatibility fixed This alpha represents the first public release that is based on new Firefox debugging engine (also known as JSD2).
Thank You for Updating! New in 1.1.25 ... 1.2.3 ... Updated internal rank checker for Google SERP changes Added ahrefs link data to toolbar. This data includes unique linking domains pointing into a website & the unique linking domains pointing into a specific web page.
SEO Toolbar Updates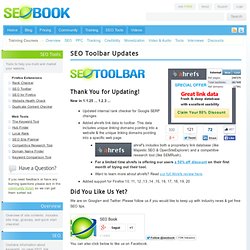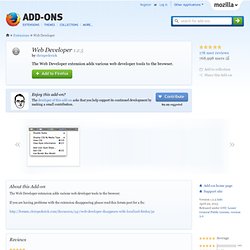 Web Developer
Version 1.2.5 Added localizations: Czech (Čeština) Fixed issues: 'Find Broken Images' did not work 'View Color Information' did not work 'View Form Information' did not work 'View Link Information' did not work 'View Meta Tag Information' did not work Localization errors made the toolbar disappear The toolbar icon was too large on Windows Various minor code fixes This add-on is not compatible with your version of Firefox because of the following: See complete version history