Vidéo
We Can Make The World Stop - The Glitch Mob
bruitage, bruitages, gratuit, library, soundbank, sound, bank, sonotheque, son, wav, aiff, aif, mp3, ogg, design, designer, free, gratuit, download, downloading, libre, droit, bruit, sonore, ambiance, studio, enregistrement, film, cinema, effect, recording, environment, banque, telecharger, sound-fishing, sound fishing, soundfishing, universal-soundbank, universal soundbank, sounddesigners, kay-soundcollection, audio-maniac, audiomicro, soundsnap, freesound, foley, soundbible, sound bible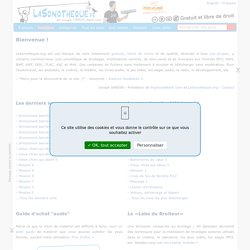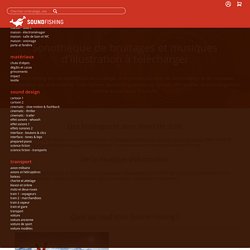 News Express >> 17 musiques d'illustration ajoutées le 08/04 : à découvrir parmi les nouveautés musicales. >> 37 bruitages ajoutés les 31/03, 01 et 03/04 : des bruitages d'Inde et Népal.>> 31 bruitages ajoutés le 24/03 : des bruitages cartoon et des bruitages de personnages cartoon.>> 19 bruitages ajoutés le 20/03 : des bruitages de grincement.>> 19 musiques d'illustration ajoutées le 17/03 : dans musique orchestrale et instruments solo. Les derniers bruitages ajoutés Le Club Sound Fishing En plus des 1582 bruitages gratuits, l'abonnement au Club Sound Fishing vous donne accès au téléchargement de 5383 bruitages supplémentaires pour quelques euros.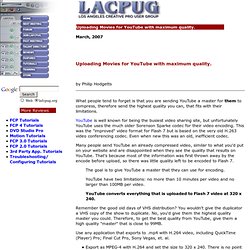 Uploading Movies for YouTube with maximum quality.
Uploading Movies for YouTube with maximum quality. What people tend to forget is that you are sending YouTube a master for them to compress, therefore send the highest quality you can, that fits with their limitations. YouTube is well known for being the busiest video sharing site, but unfortunately YouTube uses the much older Sorenson Sparke codec for their video encoding. This was the "improved" video format for Flash 7 but is based on the very old H.263 video conferencing codec. Even when new this was an old, inefficient codec.
Slideshare+Youtube A slideshare deck synchronized with a Youtube video Metal Fantaisies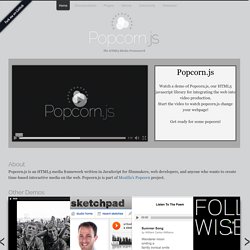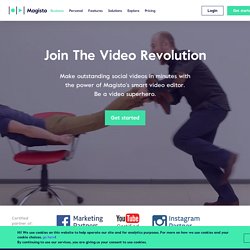 "Magisto is a great app. Easy to use and fantastic results."September 3 by Jemmah "Love this app. Thanks for letting us share great memories."September 1 by Mayra "This app is awesome....the best app for sharing moments missed by loved ones."August 29 by Tre
Sous Titres
Gmail Que se passe-t-il si vous recevez un e-mail important, mais qu'il n'est pas dans votre langue ? Gmail peut traduire automatiquement les e-mails en langue étrangère dans votre propre langue. Il vous suffit d'activer cette fonctionnalité dans Google Labs. Voici comment procéder.
Google Traduction
Bloguer en plusieurs langues ?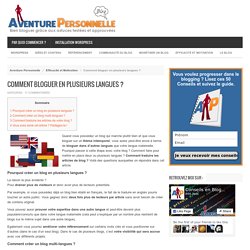 Quand vous possédez un blog qui marche plutôt bien et que vous bloguer sur un , vous aurez peut-être envie à terme de que votre langue maternelle. Pourquoi passer à cette étape avec votre blog ? Comment faire pour mettre en place deux ou plusieurs langues ? Voilà des questions auxquelles on répondra dans cet article.
Copyheart.org
By Nina, on December 3rd, 2010 ♡ Copying art is an act of love. People copy stuff they like. They don't copy stuff they don't like. The more a work is copied, the more valuable it becomes. Value isn't taken away by fans, it is added by them, every time they copy.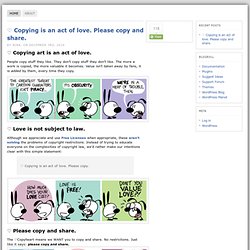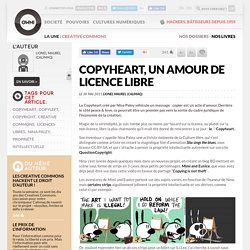 Le Copyheart créé par Nina Paley véhicule un message : copier est un acte d'amour. Derrière le côté peace & love, ce pourrait être un premier pas vers la sortie du cadre juridique de l'économie de la création. Magie de la sérendipité, je suis tombé plus ou moins par hasard sur la licence, ou plutôt sur la non-licence, libre la plus charmante qu'il m'ait été donné de rencontrer à ce jour : le ♡Copyheart. Son inventeur s'appelle Nina Paley, une activiste éminente de la Culture libre, qui s'est distinguée comme artiste en créant le magnifique film d'animation Sita sings the blues, sous licence CC-BY-SA, et qui s'attache à penser la propriété intellectuelle autrement sur son site QuestionCopyright. Nina s'est lancée depuis quelques mois dans un nouveau projet, en créant un blog BD mettant en scène sous forme de strips en 3 cases deux petits personnages, Mimi and Eunice, que vous avez déjà peut-être vus dans cette vidéo en faveur du partage "Copying is not theft" .