Plugins Wordpress
BuddyPress.org. Save web articles as PDF for reading later: Joliprint. External Links. The external links plugin for WordPress lets you process outgoing links differently from internal links.
Before: External Link After: Under Settings / External Links, you can configure the plugin to: Process all outgoing links, rather than only those within your entries' content. Broken Link Checker. This plugin will monitor your blog looking for broken links and let you know if any are found.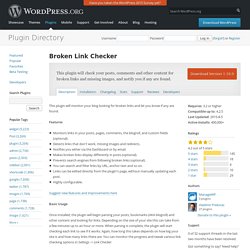 Features Monitors links in your posts, pages, comments, the blogroll, and custom fields (optional).Detects links that don't work, missing images and redirects.Notifies you either via the Dashboard or by email.Makes broken links display differently in posts (optional).Prevents search engines from following broken links (optional).You can search and filter links by URL, anchor text and so on.Links can be edited directly from the plugin's page, without manually updating each post.Highly configurable. Suggest new features and improvements here Basic Usage. Insérez du PHP dans vos articles. Typekit. CANVAS pour les titres. Gestion des commentaires sur Wordress (cf WebMarketingJunkie) My Category Order. My Category Order allows you to set the order in which categories will appear in the sidebar.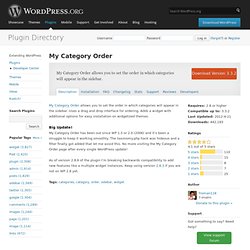 Uses a drag and drop interface for ordering. Adds a widget with additional options for easy installation on widgetized themes. Big Update! Pour chaque article, choisir l'image miniature qui apparait lorsqu'on le partage sur Facebook. Ensure your post thumbnail in social media sites - Wordpress Elite. UpPrev Previous Post Animated Notification. WordPress Audio Player. En vidéo : Comment rendre votre système de commentaires plus pratique. I vous avez un blog et que votre but est d'en vivre un jour, alors vous savez que les commentaires en sont l'élément le plus important, juste après vos articles.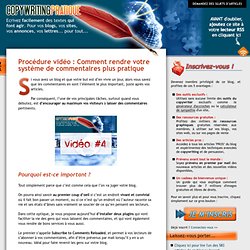 Par conséquent, l'une de vos principales tâches, surtout quand vous débutez, est d'encourager au maximum vos visiteurs à laisser des commentaires pertinents. Pourquoi est-ce important ? Wordpress-geo-mashup. This plugin lets you save location information with posts, pages, and other WordPress objects.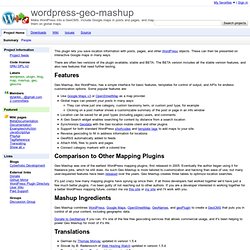 These can then be presented on interactive Google maps in many ways. There are often two versions of the plugin available, stable and BETA. The BETA version includes all the stable version features, and also new features that need further testing. Wordpress-geo-mashup - Exemple. Initialisation … Check … Flux de Données … En cours de Transfert Conseils. Saviez-vous que votre flux RSS peut servir à autre chose que tenir informé vos lecteurs ?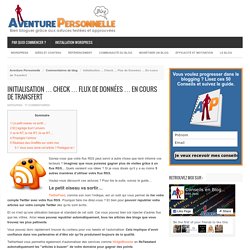 . Quels seraient vos idées ? Si je vous disais qu'il y a au moins . W3 Total Cache. The only WordPress Performance Optimization (WPO) framework; designed to improve user experience and page speed.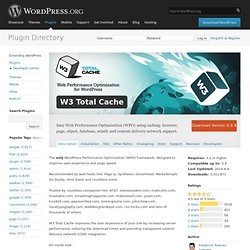 Recommended by web hosts like: Page.ly, Synthesis, DreamHost, MediaTemple, Go Daddy, Host Gator and countless more. Trusted by countless companies like: AT&T, stevesouders.com, mattcutts.com, mashable.com, smashingmagazine.com, makeuseof.com, yoast.com, kiss925.com, pearsonified.com, lockergnome.com, johnchow.com, ilovetypography.com, webdesignerdepot.com, css-tricks.com and tens of thousands of others. After the Deadline. Smileys personnalisés dans les commentaires. Wp-monalisa is the plugin that smiles at you like monalisa does. place the smilies of your choice in posts, pages or comments.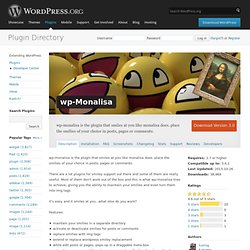 There are a lot plugins for smiley support out there and some of them are really useful. Most of them don't work out of the box and this is what wp-monalisa tries to achieve, giving you the ability to maintain your smilies and even turn them into img tags. Comment développer sa communauté Facebook grâce au plugin Wordpress Super Popup ? Plusieurs d'entre vous m'ont demandé le nom du plugin générant la lightbox / popup invitant les nouveaux visiteurs à s'abonner à notre page Facebook.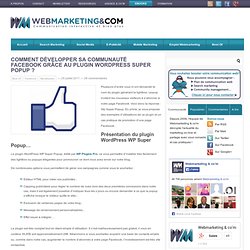 Voici donc la réponse : Wp Super Popup. En prime, je vous propose des exemples d'utilisations de ce plugin et un cas pratique de promotion d'une page Facebook… Présentation du plugin WordPress WP Super Popup… FancyBox for WordPress. Ver esta página en español Description FancyBox for WordPress is a WP plugin that uses jQuery to display images when clicked, without reloading the page.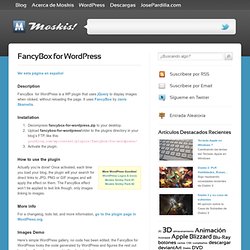 It uses FancyBox by Janis Skarnelis. Installation Decompress fancybox-for-wordpress.zip to your desktop.Upload fancybox-for-wordpressfolder to the plugins directory in your blog's FTP, like this: yourblog.com/wp-content/plugins/fancybox-for-wordpress/Activate the plugin. Sharebar. CommentLuv. Upgrade to CommentLuv Pro CommentLuv Pro has even more amazing features that can bring even more traffic and comments to your blog by giving you the ability to fight spam, add keywords, integrate twitterlink, add a top commentators widget, social enticements and by having it installed on your site, you get advanced backlink features on EVERY CommentLuv blog when you comment (there are 10's of thousands of CommentLuv blogs) About | Features | Pricing This plugin will visit the site of the comment author while they type their comment and retrieve their last blog posts which they can choose to include at the bottom of their comment when they click submit.
It has been found to increase comments and the community spirit for the thousands of blogs that have installed it. With a simple install you will immediately start to find new and interesting blog posts from your own blog and community. Créer des redirections 301 automatiques sur des mots clés. Blog utilisant le Plugin eStore (wp-cart-for-digital-products) Optimize Press | Pro Internet Marketing Tools. Générateur de comptes à rebours. Un plugin pour optimiser et personnaliser la monétisation de votre blog. On trouve beaucoup de listes des « meilleurs plugins wordpress » ou « plugins indispensables » que tout le monde utilise, j'ai d'ailleurs moi même réalisé une selection des plugins à installer en priorité sur votre blog.
Mais la librairie de wordpress est vraiment très riche et propose de nombreux plugins peu connus du grand public et vraiment très utiles. Jean de Webmarketing Junkie vient de lancer un concours: Ecrire un article sur un plugin WordPress peu connu et vraiment utile, ce qui est une très bonne initiative pour partager nos trouvailles. Les gagnants gagneront des chèques cadeaux sur Amazon, une belle opportunité pour découvrir de nouveaux livres pour se former ou pour se faire plaisir tout simplement. Un plugin SEO pour wordpress trop peu connu - Référencement - Seo. Au menu aujourd'hui, un plugin WordPress pour améliorer son référencement.
Classique me direz vous ? Oui, on peut le croire. Plugin wordpress pour l'affiliation WP-Affiliate « Le blog du référencement. WPtouch. WPtouch is a mobile plugin for WordPress that automatically enables a simple and elegant mobile theme for mobile visitors of your WordPress website. The administration panel allows you to customize many aspects of its appearance, and deliver a fast, user-friendly and stylish version of your site to your mobile visitors, without modifying a single bit of code (or affecting) your regular desktop theme. The theme also includes the ability for visitors to switch between the theme on your mobile WordPress website and your website's regular theme. Now Available: WPtouch Pro + BraveNewCloud With 4 themes and 3 new extensions installed & updated right from our new BraveNewCloud service, it's the best WPtouch yet! WP-PageNavi. You can either install it automatically from the WordPress admin, or do it manually: Unzip the archive and put the wp-pagenavi folder into your plugins folder (/wp-content/plugins/).Activate the plugin from the Plugins menu.
Usage In your theme, you need to find calls to next_posts_link() and previous_posts_link() and replace them. Plugins Wordpress : la liste qui a transformé mon business. WP Smart Tools, la boîte à outils du marketeur sous Wordpress. Créer un compte à rebour avec un texte qui s'affiche lorsqu'il arrive à zéro. Embedly WordPress Plugin: Embedding Content On Your Blog Has Never Been Easier! Related Posts. Ajouter des fonctionnalités aux articles, comme le passage de l'un à l'autre lorsque c'est un dossier. Onglets dans les pages et articles. SEO Smart Links, une extension pour faciliter le maillage interne sur votre blog | @Aventure_Perso.
3 Ways The W3 Total Cache Plugin Can Speed Up Your Wordpress Blog.
---