Mesure de traffic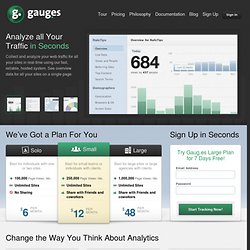 Everything in One Place Right at Your Fingertips The thing we desired most when building Gaug.es was a quick, simple overview of all our sites, in one place. We were tired of remembering multiple logins, installing and updating software for each of our sites, or digging through the heap of information Google Analytics provides. We wanted a simple, beautiful dashboard of how all our sites were doing, right now. Real-Time Data Collection
Eric Dupin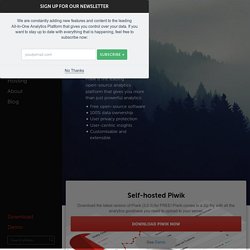 Get to know more about your users and their behaviour on your website – where they came from (referrers), which pages are most popular, how often they visit and which marketing campaigns have been successful. Whether you are an individual blogger, a small business, or a large corporation, Piwik helps you gain valuable insights to help your business or readership grow. Piwik will always respect your and your users privacy, while giving you full control of your data.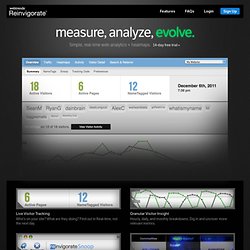 Simple, real-time web analytics + heatmaps. 14-day free trial » +Live Visitor Tracking Who's on your site? What are they doing? Find out in Real-time, not the next day.
Médiamétrie-eStat | La référence de la mesure au service d'Internet
Médiamétrie-eStat Médiamétrie-eStat est un opérateur majeur en France de la mesure du trafic Internet site centric. Créée en 1997, cette technologie a été éprouvée par de nombreux clients et confère aujourd'hui à Médiamétrie-eStat une position historique, faisant de la société un des principaux acteurs du Web Analytics. Médiamétrie-eStat vous propose une gamme complète de solutions de Web Analytics mesurant de manière exhaustive le trafic de vos sites web et de vos applications disponibles sur mobiles et Xbox. De plus, vous pouvez également analyser l'efficacité de vos actions marketing, la consommation et les performances de vos flux audio et vidéo ainsi que le comportement de vos internautes. Médiamétrie-eStat propose également la première mesure site-centric hybride permettant d'obtenir quotidiennement le profil (sexe, âge et CSP) des internautes sur vos contenus web, audio et vidéo.