CSS & JavaScrit
Star Wars opening crawl from 1977
Si vous êtes développeur et que vous prenez en cours le développement d'un site, il se peut que par inadvertance, vous laissiez quelques sélecteurs CSS dans vos feuilles de style qui ne seront jamais utilisés nulle part sur votre site. C'est une chose qui peut arriver aussi quand on pratique avec trop de légèreté le copier-coller. Et effectivement, tout revérifier style par style, ça peut être long. Alors on laisse, par flemme. Mais un petit outil qui s'appelle Helium va vous aider à détecter ces sélecteurs qui ne sont pas utilisés. Pour cela, il suffit de télécharger le js sur Github puis d'ajouter l'appel à celui-ci dans toutes vos pages web (via le header ou le footer de votre site par exemple).
Comment trouver les sélecteurs CSS non utilisés ?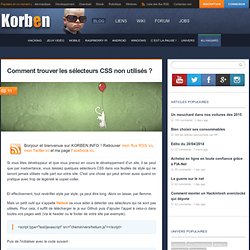 Johnnie Walker has launched a new global 'Keep Walking' integrated campaign fronted by its latest 'From the Future' spot via BBH London. This week marks the launch of major new brand work for Johnnie Walker globally and the evolution of our iconic "Keep Walking" campaign. The integrated campaign kicked off with a social content platform, #NextStep, which sees Johnnie Walker filtering the web to provide a globally curated feed of content; a service designed to inspire our communities and help them move forward on a daily basis. At the centre of the campaign is our new brand film, 'From the Future', written by Nick Gill and directed by Fredrik Bond, which marks a step change in the tone, look and feel of the Johnnie Walker brand, in a bold move to refresh and modernise its communications and make it more relevant to progressively minded drinkers around the world.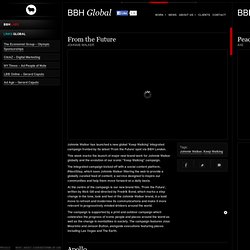 Bartle Bogle Hegarty | When the world zigs, zag | New York
iutopi - Creative Land / Branding, Graphic & Web Design | | | | | | | Mauro Macchiaroli + Javier González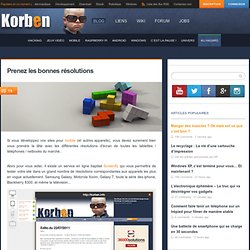 Prenez les bonnes résolutions Si vous développez vos sites pour mobile (et autres appareils), vous devez surement bien vous prendre la tête avec les différentes résolutions d'écran de toutes les tablettes / téléphones / netbooks du marché.. Alors pour vous aider, il existe un service en ligne baptisé Screenfly qui vous permettra de tester votre site dans un grand nombre de résolutions correspondantes aux appareils les plus en vogue actuellement.
Prenez les bonnes résolutions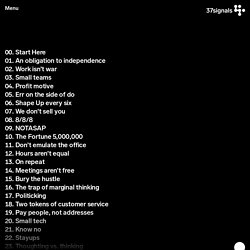 Our loyal customers include designers, developers, freelancers, lawyers, accountants, architects, non-profits, charities, universities, PR firms, retailers, manufacturers, consultants, authors, publishers, government agencies, students, marketers, airlines, restaurants, filmmakers, farmers, and just about everyone in-between. The world's most popular brands depend on our products every day. We'll never take their trust — or your trust — for granted.
Chazz Hacking—the project lead—chose Basecamp to help organize the store design, develop fixtures, and manage craftspeople. There were 40 people from 10 different companies involved in this 8 month project! The first thing Chazz did was make a new project in Basecamp called KEEN Retail: GARAGE PDX Glisan St. Then he invited a few core people to the project.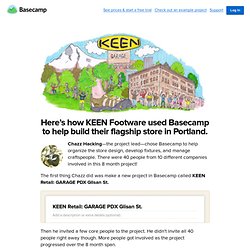 Take a tour of Basecamp
Home | Web Fonts Gallery - Pure CSS & Web Fonts inspiration - @font-face sites showcase
Web Design, Online Marketing, Social Media, Sviluppo Drupal | Macaroni Bros - Media Agency
Effet de 3D avec un téléphone acceléromètre, du CSS et un peu de Javascript
Alpe d'huez photos blog Vos sorties ski à l'Alpe d'Huez en images
Démo de vidéo en HTML5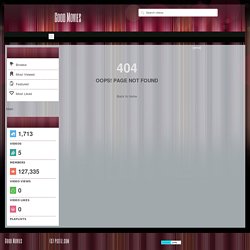 Tutorial - Comment récupérer des variables passées en GET, dans un swf Flash avec FlashVars Pour un de mes projets, je devais charger des données personnalisées depuis une base MySql dans un swf Flash. L'identifiant permettant de retrouver ces données dans la base était indiqué dans l'url de la page sous la forme index.php?id=xxx. Ce n'était pas une valeur POST mais une valeur GET qu'il fallait récupérer.
Récupérer une variable dans un SWF Flash avec FlashVars | Blog | Flash |
Random Content Generator - A jQuery Plugin Featuring Chuck Norris tagged JavaScript by Jon Placeholder Text, such as Lorem Ipsum, is something every web designer or developer uses. And for good reason. It's not meant to confuse clients and provoke comments such as, "what is this funky writing?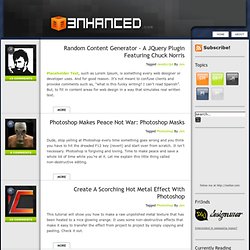 3nhanced.com - Imagine, Design, Develop, Create the Web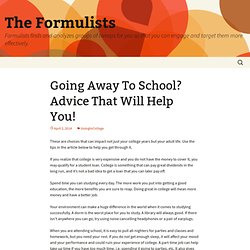 [iframe src="http://www.youtube.com/embed/myq8upzJDJc" height="315" width="420" frameborder="0"] Back in 2008, the Washington post covered a really interesting study in which they had one of the most famous and talented musicians in the world, Joshua Bell, play some of his usual concert pieces incognito in a subway. Almost no one stopped to listen or recognized how beautifully he was playing. Within the last few weeks- Jay Baer wrote a great post about how, thanks to new media like Twitter, it is much easier to come by information but along with this new speed of information transfer is a wane in more investigative knowledge mining. The way I see it, both these touch on the same theme: as the world moves faster and faster with more and more information and stimulation, are we losing touch with what is truly meaningful? Do we now need contextual cues (ie: big names, high Klout scores, crowds etc) to see the quality of what we read and experience?
30 Awesome jQuery Navigation Menu Tutorials, Plugins and Downloads
jQuery can allow for an enhanced user experience in a variety of ways, from image sliders and lightboxes, to tooltips, navigation menus and contact forms. When combined with other upcoming technologies like HTML5 and CSS3, the possibilities are nearly limitless. We've gathered up 30 jQuery navigation plugins, tutorials and downloads to ease your jQuery development. Whether you're looking for a drop-down menu, a multi-level menu, a menu that floats along the sidebar, an accordion menu, or any other type of menu you can dream of, this post will have some useful tools for you.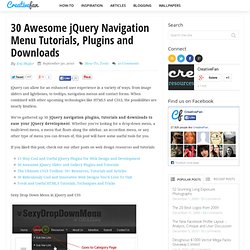 After releasing several jQuery scripts, I wanted to take the whole jQuery programming to another level. For that reason, I'm proud to release my first jQuery plugin for everyone to use. The plugin called jSlickmenu, creates, well, slick menus with jQuery.
jSlickmenu is a jQuery plugin to create slick menus using CSS3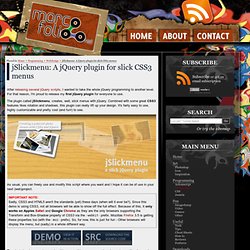 55 CSS Menu And Button Coding Tutorials
Navigation menus and buttons with CSS styling are being used in almost every website. There are a lot of techniques to utilize and a good developer should have some basic knowledge about them all. Below you will find a lot of tutorials each teaching you something different and appropriate. You will also find quite lot CSS3 tutorials, because CSS3 offered features are being used more and more and you should practise them too. Menus
20 Useful CSS3 Menu and Navigation Tutorials
Although CSS3 has not been supported by some browsers yet and many people are unenthusiastic to use it, many other people have enjoyed using it with its features to create many fabulous stuffs. However, there many features that can be gotten by using CSS3 in building a website. We can use the features of JavaScript and images to create website in good performance with features like navigations menu. Below are some great tutorials from the professional designers and developers that maybe useful for you to create awesome menu using CSS3. How to Build a Kick-Butt CSS3 Mega Drop-Down Menu
A Fresh Bottom Slide Out Menu with jQuery
In this tutorial we will create a unique bottom slide out menu. This large menu will contain some title and a description of the menu item. It will slide out from the bottom revealing the description text and some icon. We will use some CSS3 properties for some nice shadow effects and […]
15 Super-Simple jQuery Menu and Navigation Plugins | Speckyboy Design Magazine
There are lots of jQuery menu and navigation plugins freely available that can do anything you could possibly imagine. We love those innovative and ground-breaking plugins we really do. But, as we are sure you will agree, the most of the time, all we basically need is a lightweight, functional and easy to style solution.
Barre de sous-navigation enrichie
Le Prince William vient d'être diplômé de la Royal Air Force, et a effectué avec succès sa première mission de sauvetage en hélicoptère. Le prince William, qui est désormais pilote d'hélicoptère pour les opérations de sauvetage de l'armée britannique, a effectué sa première mission samedi. Son hélicoptère a décollé de la base de Valley à Anglesey, dans le nord-ouest du Pays de Galles, sept minutes après avoir reçu l'appel d'urgence des gardes-côtes de Liverpool.
Barre de navigation rollover
Nav Top pour eCommerce
Excellent jQuery Navigation Menu Tutorials - Noupe Design Blog
Barre de navigation