Web development
Roots WordPress Theme | Rapidly create sites with HTML5 Boilerplate and Blueprint CSS or 960.gs. Using Speakker – Cool HTML5 Audio Player. Using Speakker – Cool HTML5 Audio Player(jQuery) Today we continue jQuery lessons, and we will try new audio player – Speakker.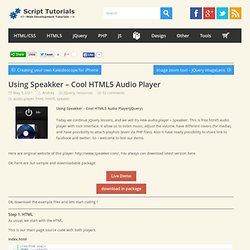 This is free html5 audio player with nice interface. It allow us to listen music, adjust the volume, have different covers (for media), and have possibility to attach playlists (even via PHP files). Also it have ready possibility to share link to facebook and twitter. So – welcome to test our demo. Holmes.css - CSS Markup Detective. What does it do?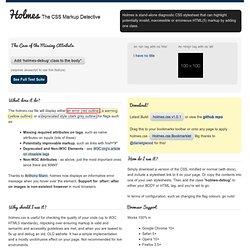 The holmes.css file will display either an error (red outline), a warning (yellow outline), or a deprecated style (dark grey outline) for flags such as: Missing required attributes on tags, such as name attributes on inputs (lots of these) Potentially improvable markup, such as links with href="#" Deprecated and Non-W3C Elements - see W3C.org's article on obselete tags Non-W3C Attributes - as above, just the most important ones since there are MANY Thanks to Anthony Mann, holmes now displays an informative error message when you hover over the element. Support for :after/::after on images is non-existent however in most browsers. Hello, want to kill some time? SpritesBaker, booster votre site avec des images encodées en Base64. L'optimisation d'un site passe par tout un tas de techniques visant à télécharger moins : moins d'octets (compression d'images, css et js), et moins nombreux (unification des fichiers externes, CSS, JS et sprites d'images).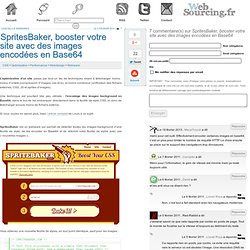 Une technique est pourtant très peu utilisée : l'encodage des images background en Base64, dans le but de les embarquer directement dans la feuille de style CSS, et donc de télécharger encore moins de fichiers externe. Si vous voulez en savoir plus, lisez l'article complet de Louis à ce sujet. SpritesBaker est un webware qui permet de détecter toutes les images background d'une feuille de style, de les encoder en Base64 et de réécrire votre feuille de styles avec ces « nouvelles images ».
Mobile
---