Template
Sleek Coming Soon Page Design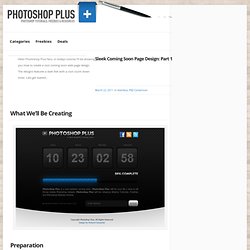 Hello Photoshop Plus fans, in todays tutorial I'll be showing you how to create a cool coming soon web page design. The designs features a dark feel with a cool count down timer. Lets get started…
NOTE: This post was originally posted on January 12th 2011. However, I still receive requests for quality xhtml templates and these templates remain great quality. Whilst WordPress is hugely prevalent, many designers and amateurs still regularly need a simple html template for their work.
34 Free & Beautiful xHTML/CSS Templates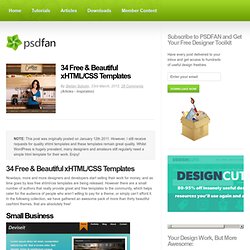 Great CNA Tips That Can Work For You! By admin on Sunday, January 12th, 2014 | No Comments Are you currently in college? If so, then you are one of the many millions of people trying to find your identity in this world. College can be one of the most stressful times of your life because you are facing a lot of uncertainty.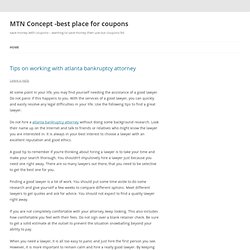 Advertisement It's hard to believe that a year has passed since our last WordPress theme collection, but there you have it — the time has come again. Once a year we feature the most useful and interesting WordPress-themes that we are collecting over months and present them in a nice quick overview. The collections from 2007, 2008 and last year are still useful, but some of the themes are outdated or updated now. Looking back over these previous theme articles, you can clearly see how and why WordPress has rapidly matured into the CMS powerhouse it is today. With all of the features that have been added and improvements made with every new WordPress version and with its ever-increasing popularity among the design and development community, the quality of free themes is evident.