jQuery
Carte de France cliquable en HTML5 / SVG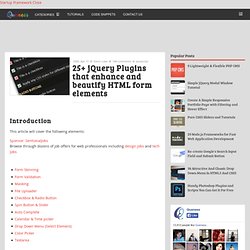 Introduction This article will cover the following elements: Advertisement Form Skinning Frustrated with the form elements inconsistency among different browsers? With these jQuery plugins, you can unified the look and feel of all your form elements.
Whether you're a developer or a designer, a strong jQuery skillset is something you can't afford to be without. Today, I'm going to show you 30 handy jQuery coding tricks that will help you make your scripts more robust, elegant and professional. Getting Started These tips and tricks all have one thing in common- they are all smashingly useful. With this stuff in your back pocket, you'll be ready to go change the world, and even better, write jQuery like you know what you're doing. It's gonna be fun.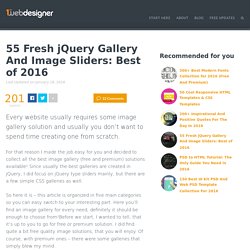 Tooltips on website are small things which can play a big role in website design. If a tooltip on your website is very well made and looks amazing, then it can lift up visitors impression about your website. And that's why here comes jQuery to help with its well made tooltips.
For our "Best of 2010″ series we've already shown your our picks for best free WordPress themes and free fonts. So for this week the focus in on jQuery. This javascript framework continued to grow in popularity during 2010, which meant an abundance of plugins being released. This made it difficult to choose our favorites.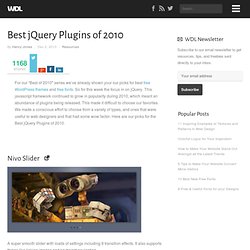 Best jQuery Plugins of 2010 | Resources
5 jQuery Must Have Code Snippets « A Love For Design » Web Design & Graphic Design Tutorials
If you haven't heard of jQuery yet, than you are definitely missing out on one of the most dynamic and stable JavaScript Libraries. With thousands of plug-ins and added widgets it makes jQuery one of the leaders in javascript frameworks. jQuery is designed to cut all hand-code in half if not more simplifying HTML document traversing, event handling, animating, and Ajax interactions for more streamlined web development. If you don't already have a copy of javascript, one way that is growing fast is hot linking through Google – Which the idea is that it might already be cached in the users browser so there would be no downloading thus making a page load quicker. Downloading jQuery To do this, link google's jQuery link (Note: T his one might be out dated so make sure you get the most up to date one). Insert this into the head tag of your page.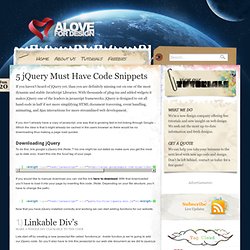 Top 10 Fresh jQuery Plugins of July 2010
jQuery Expressions BenchmarkR - Benchmark your jQuery expressions/selectors ! jQuery - GeekFG's web services & applications
With all the talk of CSS3 at the moment, its easy to overlook the impact Javascript, especially jQuery, can have on the appearance of the basic web button. As such, we have collected 20 useful CSS buttons techniques that have all been improved and enhanced by the sooper-dooper power of jQuery. Creative Button Animations with Sprites and jQuery This tutorial will show you how to build creative hover animations for buttons using sprites. Part 1 of this tutorial explains the design process in Photoshop and in, in part 2 you will learn how to convert it to XHTML + CSS, and finally adding a fading hover effect with jQuery. View the Tutorial »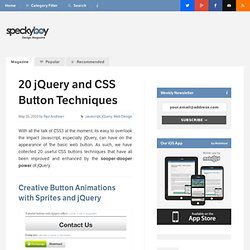 20 Awesome jQuery Enhanced CSS Button Techniques - Speckyboy Design Magazine
Oct 29 2009 Do you ever think "Ugh" when it is time to update or redesign your site? jQuery has a fantastic library of plugins and tutorials that can speed the benefits of developing your site while demanding less time and improving workflow constraints.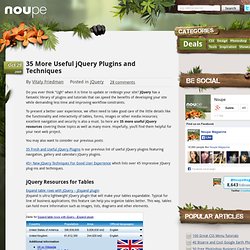 35 More Useful jQuery Plugins and Techniques - Noupe Design Blog