Analyses / Pratiques
Twitter To Give You 2 Less Characters When Tweeting Links. 6 December '12, 07:41pm Follow As of February 20th, 2013, you're going to have two fewer characters to send a message on Twitter when you're sharing a link.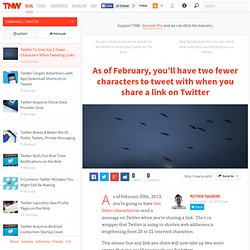 The t.co wrapper that Twitter is using to shorten web addresses is lengthening from 20 to 22 reserved characters. Twitter comme élément constitutif d'un journalisme ambiant. Historique des messages Twitter : l'outil de téléchargement se fait attendre. Le service de micro-blogging proposera prochainement un outil pour sauvegarder l'intégralité de ses messages, nous avons demandé où en était le projet.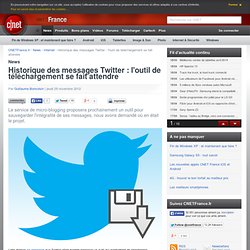 L'été dernier on apprenait que Twitter allait bientôt proposer un outil qui permettrait de télécharger l'intégralité des messages. Nous allons entamer le dernier mois de l'année et CNETFrance a demandé des nouvelles à Twitter. PageCovery. Changez automatiquement la une de vos pages Facebook. When Did You Join Twitter? Mention, un outil de veille efficace par mots clés. Une startup lance un outil de détection des faux profils Facebook. Twitter Bio Generator. Comment Twitter a pris d'assaut les médias en 6 dates. C'était il y a peine plus d'un an, en septembre 2011.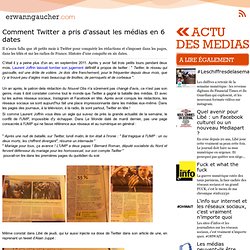 Après y avoir fait trois petits tours pendant deux mois, Laurent Joffrin laissait tomber son jugement définitif à propos de twitter : " Twitter, le réseau qui gazouille, est une drôle de volière. Je dois dire franchement, pour le fréquenter depuis deux mois, que j'y ai trouvé peu d'aigles mais beaucoup de linottes, de perroquets et de corbeaux ". Un an après, le patron dela rédaction du Nouvel Obs n'a sûrement pas changé d'avis, ce n'est pas son genre, mais il doit constater comme tout le monde que Twitter a gagné la bataille des médias. Et avec lui les autres réseaux sociaux, Instagram et Facebook en tête. Les 3 dernières études à découvrir   [France] 54% des internautes sont inscrits sur Facebook….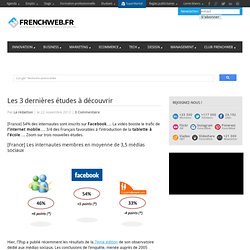 La vidéo booste le trafic de l'internet mobile…. 3/4 des Français favorables à l'introduction de la tablette à l'école…. Zoom sur trois nouvelles études. [France] Les internautes membres en moyenne de 3,5 médias sociaux Hier, l'Ifop a publié récemment les résultats de la 7ème édition de son observatoire dédié aux médias sociaux. Les conclusions de l'enquête, menée auprès de 2005 internautes du 15 au 19 octobre dernier, soulignent une nouvelle fois le succès des réseaux sociaux en France.
Conditions générales de mystification. Écrites en petits caractères et dans un jargon peu accessible : ce sont les magnifiques "conditions générales d'utilisation" (CGU).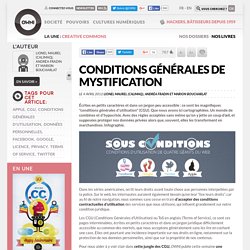 Que nous avons ici cartographiées. Un monde de combines et d'hypocrisie. Avec des règles acceptées sans même qu'on y jette un coup d'œil, et supposées protéger nos données privées alors que, souvent, elles les transforment en marchandises. How the Guardian's community of commentators contributes to the story. A community of commentators provides the Guardian storytelling process with "cross-fertilisation from below the line", David Shariatmadari, deputy editor of Comment is Free (CiF), the Guardian's comment, analysis and discussion platform, told readers at the Guardian Open Weekend event today.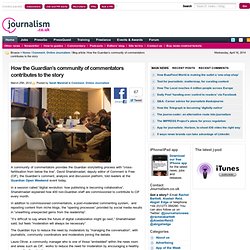 In a session called "digital revolution: how publishing is becoming collaborative", Shariatmadari explained how 400 non-Guardian staff are commissioned to contribute to CiF every month. In addition to commissioned commentators, a post-moderated commenting system, and reposting content from niche blogs, the "opening processes" provided by social media results in "unearthing unexpected gems from the readership". "It's difficult to say where the future of digital collaboration might go next," Shariatmadari said, but feels "moderation will always be necessary". For Newsrooms. Journalists.
20 free tools to evaluate social media. These tools are not for measurement, but instead evaluation.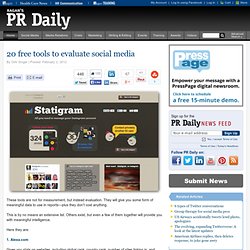 They will give you some form of meaningful data to use in reports—plus they don't cost anything. This is by no means an extensive list.  Tweet first, verify later? New Fellow's paper online. Nicola Bruno, an Italian journalist specialising in digital media and technology and its effect on journalism, has written a fascinating research paper on how mainstream media used social media in the aftermath of the Haiti earthquake in January 2010.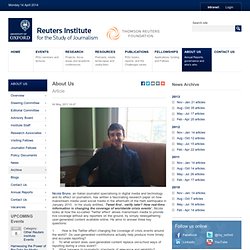 In his study entitled, 'Tweet first , verify later? How real-time information is changing the coverage of worldwide crisis events', Nicola looks at how the so-called 'Twitter effect' allows mainstream media to provide live coverage without any reporters on the ground, by simply newsgathering user-generated content available online. He aims to answer three key questions: 1. How is the Twitter effect changing the coverage of crisis events around the world? Do user-generated contributions actually help produce more timely and accurate reporting? 10 Ways The New York Times Tells Stories Through Reader Content. When looking for inspiration for your own reader-submissions projects, The New York Times' collection of storytelling tools is a good place to start because they do it so well.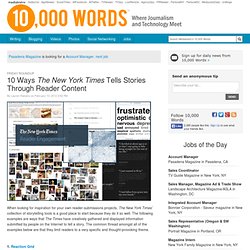 The following examples are ways that The Times have creatively gathered and displayed information submitted by people on the Internet to tell a story. The common thread amongst all of the examples below are that they limit readers to a very specific and thought-provoking theme. 1.
---