Tech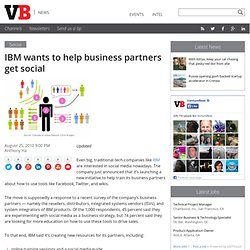 IBM wants to help business partners get social
Updated Even big, traditional tech-companies like IBM are interested in social media nowadays. The company just announced that it's launching a new initiative to help train its business partners about how to use tools like Facebook, Twitter, and wikis. The move is supposedly a response to a recent survey of the company's business partners — namely the resellers, distributors, integrated systems vendors (ISVs), and system integrators of IBM products. Of the 1,000 respondents, 45 percent said they are experimenting with social media as a business strategy, but 74 percent said they are looking for more education on how to use these tools to drive sales. To that end, IBM said it's creating new resources for its partners, including:
Tech bloggers & reporters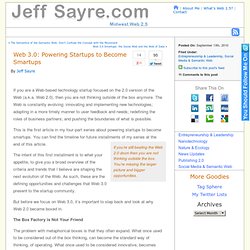 If you are a Web-based technology startup focused on the 2.0 version of the Web (a.k.a. Web 2.0), then you are not thinking outside of the box anymore. The Web is constantly evolving: innovating and implementing new technologies; adapting in a more timely manner to user feedback and needs; redefining the roles of business partners; and pushing the boundaries of what is possible.
Web 3.0: Powering Startups to Become Smartups
What the Semantic Web -- or Web 3.0 -- Can Do for Marketers - Advertising Age - DigitalNext
It's been nearly 10 years since Tim Berners-Lee, who is credited with inventing the worldwide web, expressed his vision of a "semantic web," in which all web data -- and the meaning of that data -- could be read by machines. Since then, much of the slow-moving progress toward this smarter and more powerful web has been courtesy of academics and data librarians. Recently, however, the semantic web has been enjoying a commercial revival of sorts and is often referred to by the new buzzword "Web 3.0." Given how insane the pace of life is these days, I thought I'd offer a few thoughts on what I've been learning about it.