Web2.0
web20andsocialmediaeSafetyinXXIcenturyeducation
List of top 60 #web20 toolsc #edtech20 #edchat #tlchat #socialmedia #cpchat #ukedchat
Scroll down this page to view the shortlisted nominations in this category in alphabetical order. To vote for your favorite just choose the category from the drop down menu below you want to vote in, who you want to vote for and then click Vote. You can vote in as many categories as you want per day!Please note only one vote per category per day will be counted per IP address.This means, if your school uses one IP address, you'll need to ask students and staff to vote from home, or only one vote will count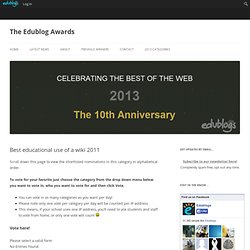 Best educational use of a wiki 2011
BLOG USING GR8 WEB 2.0 TOOLS AND APPS IN XXI CENTURY EDUCATION http://xeeme.com/ecurator/: Thank you #pln because you nominated for #eddies #edtech20 wiki ( #web20 #socialmedia 2010 )
This week we will
?utm_source=feedburner&utm_medium=twitter&utm_campaign=Feed%3A+Web20InEducationInSafetyMode+%28Web+2.0+in+education+in+safety+mode+
Convert Books to ePub Format | Tools for Learners
#edtech20 project Twitter tweets related to: Classroom, Tools, Chosen, Web20, Edtech20 and more
Why Smartboards are a Dumb Initiative | Learning Technology
#edtech20 project Twitter tweets related to: Tools, Teachers, Edtech20, Web20, Socialmedia and more
#edtech20 project Twitter tweets related to: Tools, Edtech20, Web20, Socialmedia, Edchat and more
100 Essential #edtech20 #Web20 & #socialmedia Tools for Teachers
#edtech20 project Twitter tweets related to: Summit, Edtech20, Pln, Web20, W2s and more
rt @rww Contest: What Does The Term Web 2.0 Mean To You Today? #edtech20 | web2.0toolsandappsby@web20education
From #web20 to #socialmedia #curation and Artificial Inteligence #aiclass in XXI Century Education
#edtech20 in XXI Century Education Free project in the clouds for teachers worldwide
#edtech20 project Twitter tweets related to: Tools, Guide, Pages, Web20, Education and more
#Wirify bookmarklet lets you turn any web page into a wireframe in one click #edtech20 | web20andsocialmediaeSafetyinXXIcenturyeducation
eSafety #edtech20 project in the clouds for teachers worldwide in XXI Century Education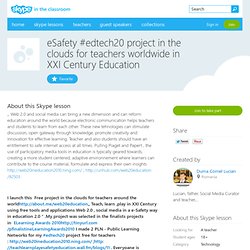 About this Skype lesson ,, Web 2.0 and social media can bring a new dimension and can reform education around the world because electronic communication helps teachers and students to learn from each other. These new tehnologies can stimulate discussion, open gateway through knowledge, promote creativity and innovation for effective learning.
#PikiFriends the safe way to use #web20 with students #edtech20 | web20andsocialmediaeSafetyinXXIcenturyeducation
A new look at transforming education | Oxfam Blogs
A new look at transforming education Welcome to the newest Oxfam Australia blog, Educators shaping change. As its name suggests, the blog is intended to be a resource for educators seeking to bring about positive change through their work in the classroom. We'd welcome your feedback or suggestions.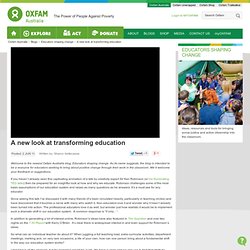 Social media is not just about conversations; it's also about collaboration.With this in mind we thought it would be interesting to take a look at some of the most well known collaboration tools on the market at the moment. Much like our list of social media management tools wiki, this is an ongoing project, so if you know of any others please let us know so we can add them to the list. Adobe Acrobat – Acrobat.com allows teams to work collaboratively on documents through their browsers. Options for web conferencing and screen-sharing provide additional communication channels.Atlassian Confluence – offers a powerful wiki-based solution to enterprise collaboration. Content can be simply dragged and dropped from the desktop to the platform, eliminating the need for keeping track of attachments sent via email.Basecamp – collaborative messaging and file sharing.
15 Social Media Collaboration Platforms – A Wiki In Development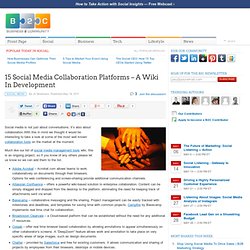 33 free online #edtools 4 drawing
#LiveBinders Tips and Tricks #edtech20 #edtools | web20andsocialmediaeSafetyinXXIcenturyeducation
List of Social Media Tools That Can be Used in Social Learning - Interactyx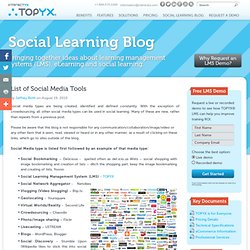 Social media types are being created, identified and defined constantly. With the exception of crowdsourcing, all other social media types can be used in social learning. Many of these are new, rather than repeats from a previous post. Please be aware that this blog is not responsible for any communication/collaboration/image/video or any other item that is seen, read, viewed or heard or in any other manner, as a result of clicking on these links, which go to sites outside of this blog. Social Media type is listed first followed by an example of that media type: Social Bookmarking – Delicious - spelled often as del.icio.us Wists – social shopping with image bookmarking and creation of lists – ditch the shopping part, keep the image bookmarking and creating of lists, YoonoSocial Learning Management System (LMS) - TOPYXSocial Network Aggregator - NetvibesVlogging (Video blogging) – Blip.tv
Web 2.0 , social media safety in education with Lucian
Web 2.0 with Lucian
I have to tell you that it was a tough call to make these decisions, especially when we're talking every teacher no matter what grade level or subject, but I hope that you find a couple of gems to put away in your virtual treasure box. You may have others you'd like to add to the list. Please post them in the comments for all of us to explore. A great photo editing tool is a must for teachers and I recommend Aviary, LunaPic, Picnik, or BeFunky with some being simpler than others, but all having unique features. Explore all the tools and choose the best option for your skill level. Creaza and Jaycut are answers to the Windows XP Movie Maker and Flipcam problem.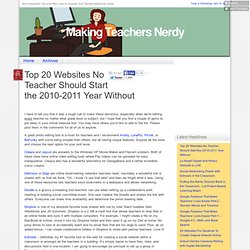 What is 2.0?