Teaching
Pete's Lesson Toolbox April 2013. Browse OER Materials. 5 Free Tools to Collect Student Feedback. There are several free web tools that teachers can use to gather feedback from their students both formally and informally.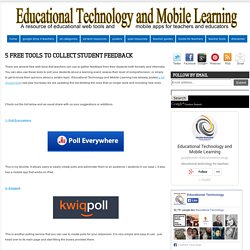 You can also use these tools to poll your students about a learning event, assess their level of comprehension, or simply to get to know their opinions about a certain topic. Educational Technology and Mobile Learning has already posted a list of such tools last year but today we are updating this list deleting the ones that no longer work and including new ones . Check out the list below and as usual share with us your suggestions or additions. Posters to download. General Info. A List of 16 Websites Every Teacher should Know about. As part of their preparation for the new school year teachers try to look for new web resources and materials they can use to help them with their teaching.This is definitely not an easy task for one needs to live online in order to be able to keep up with the new releases and sift through the tsunami of web tools available online.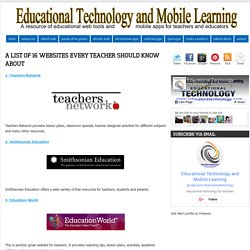 In this regard, Educational Technology and Mobile Learning has recently started posting a series of articles featuring some of the best free web resources for teachers across different educational spectrum. We have already published lists of free websites for teachers of ; Math, Science, Language Arts, Social Studies , Music Education , Economics, and Physical Education and Health, ESOL and today we are going to provide you with another list of great websites where teachers can find lesson plans, teaching tips and many more. Check out the list below and let us know what you think. The Teacher's Survival Kit for Lesson Planning! Tips & 1000s of Free Lesson Plans. Posted by Shelly Terrell on Saturday, August 18th 2012 Goal 16: Plan An Engaging Lesson of The 30 Goals Challenge for Educators I cannot teach anybody anything, I can only make them think. – Socrates.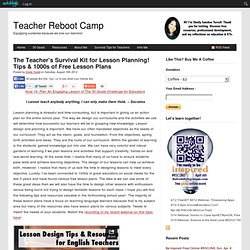 10 Incredibly Powerful Teaching Tools of the Future. How do you feel. Some great. Ideas for next. 25 Free Resources for Learning a Language Online. Jane Hart is the Founder of the Centre for Learning and Performance Technologies, one of the most visited learning sites on the Web.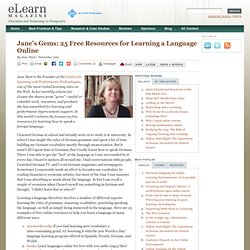 In her monthly column for eLearn she shares some "gems"—useful or valuable tools, resources, and products she has unearthed for learning and performance improvement/support. In this month's column she focuses on free resources for learning how to speak a foreign language. I learned German at school and actually went on to study it at university.
The whys and the. Fcpteacher.flatclassroomproject. Learning to Change/ Changing to Learn: Student Voices. Halloween. Halloween Submitted by admin on 27 October, 2011 - 11:26 On this page you will find information about new content as well as tips and ideas for using and extending the activities in the classroom.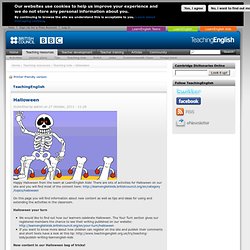 #edtech20 project Twitter tweets related to: Videos, Class, Teachingenglish, Britishcouncil, Elt and more. Search Seminars and Webcasts - Events, Webcasts and Seminars - Cisco Systems. Time to vote for your favorite Language Facebook Page 2011. UPDATE: Voting has ended.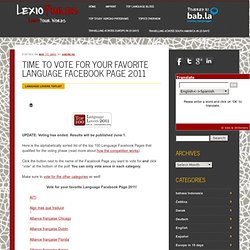 Results will be published June 1. Here is the alphabetically sorted list of the top 100 Language Facebook Pages that qualified for the voting phase (read more about how the competition works). Click the button next to the name of the Facebook Page you want to vote for and click "vote" at the bottom of the poll! Teaching ESL Students Reading & Phonemic Awareness- Reading Horizons. By Robin Schwarz Spoken language is noise which the experienced listener sorts into meaningful chunks.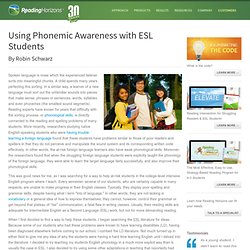 A child spends many years perfecting this sorting. In a similar way, a learner of a new language must sort out the unfamiliar sounds into pieces that make sense: phrases or sentences, words, syllables and even phonemes (the smallest sound segments). Reading experts have known for years that difficulty with the sorting process, or phonological skills, is directly connected to the reading and spelling problems of many students. More recently, researchers studying native English-speaking students who were having trouble learning a foreign language found that these students have problems similar to those of poor readers and spellers in that they do not perceive and manipulate the sound system and its corresponding written code effectively. Report cites 40 diverse examples of blended learning | Featured on eSchool News. Educators also give their 'wish lists' for blended learning technology, policy By Meris Stansbury, Associate Editor Read more by Meris Stansbury May 3rd, 2011 The sample of programs studied was large enough to indicate trends in blended-learning usage.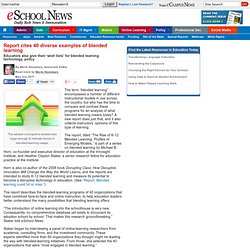 The term "blended learning" encompasses a number of different instructional models in use across the country, but who has the time to compare and contrast these programs for an analysis of what blended learning means today? A new report does just that, and it also collects instructors' opinions of this type of learning. Digital Storytelling Tools. Why Formative Assessments Matter. Updated 01/2014 Summative assessments, or high stakes tests and projects, are what the eagle eye of our profession is fixated on right now, so teachers often find themselves in the tough position of racing, racing, racing through curriculum.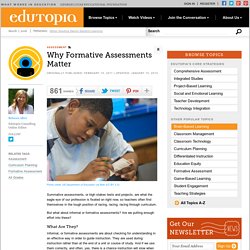 But what about informal or formative assessments? Are we putting enough effort into these? What Are They? Have you looked at Blogger lately? Declaration of Education Participants | Declaration of Education. Using Crocodoc for collaborative homework marking. Professional development. ELTons - Innovation Awards - British Council. The ELTons 2014 shortlists have been announced!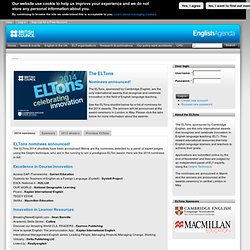 Below are the nominees, selected by a panel of expert judges using the Delphi technique, who are in the running to win a prestigious ELTon award. Here are the 2014 nominees in full: Excellence in Course Innovation Access EAP: Frameworks - Garnet EducationDyslexia for Teachers of English as a Foreign Language (Dystefl) - Dystefl ProjectESOL National 4 - K2L LtdOUR WORLD - National Geographic LearningPicaro - Kaplan International EnglishTEDDY EDDIE Skillful - Macmillan Education.
Moving from Web 2.No to Web 2.Go. I spent the week of February 7-11 attending the 2011 TCEA Convention and Exposition in Austin, Texas. The theme for this year's gathering was "No LimITs", and it was an appropriate theme for my biggest takeaways from the conference. For years I have been hearing and reading about the need to open up Web 2.0 tools for student and teacher use in schools as well as moving toward 1:1 computer/device access for students.
This year, these two themes converged at TCEA, and for the first time I heard from several schools and districts that have taken steps in these directions. I left the conference encouraged and energized to help my own district start making moves in this direction. Goal 7: Play and Have Fun! #30Goals. Posted by Shelly Terrell on Tuesday, February 8th 2011 Goal 7 of The 30 Goals Challenge 2011 Goal Short-term- Observe a child not in school play for at least 5 minutes. Notice how the child learns before the influence of school. Find a way to incorporate play, fun, and movement into a lesson this week. SchoolExpress.com - 13000+ FREE worksheets. Education Reform – Explain it to Me Like I'm a Fifth Grader « Relentless Teaching. This whole approach to education reform for the 21st century…yeah, I need someone to explain it to me like I'm a fifth-grader.
I've been reading the recently published work of a few respected educators; experts such as Tony Wagner (The Global Achievement Gap), Diane Ravitch (The Death and Life of the American School System), and Yong Zhao (Catching Up or Leading the Way). Their thoughts about the knowledge and skills students must develop to be contributing citizens in the 21st century are intriguing. New Technology Could Offer Savings, Educational Boon.
The recessionary pressures that have forced school leaders to make painful program and personnel cuts may also have accelerated the quest for savings through innovation—and enhanced the allure of educational technology as a vehicle. Online curricula, distance learning, netbooks and cellphones in the classroom, and Web 2.0 tools—think Facebook and Skype—as a means of student collaboration have all gained luster as the drive to do more with less overlaps with the demands of educating a generation of digital natives. Still unclear, though, is just how significant such innovations are likely to prove as a cost-cutting strategy,... Marisa Constantinides: Professional Development through Facebook and Nings.
By shellterrell, on December 13th, 2010 Bio: Marisa Constantinides is the Director of Studies of CELT Athens and is responsible for the design and implementation of all programmes offered by CELT. Her main qualifications related to teaching are the RSA Diploma in TEFLA (DTEFLA), a precursor to the Cambridge DELTA Diploma, and an M.A. in Applied Linguistics from the University of Reading in the UK. Marisa has trained teacher in the private as well as the state school sector first as a free lance trainer, later as an in hourse trainer for a major foreign language centre in Athens and, since 1993, running her own teacher education centre, CELT Athens. Launching Elluminate Live!
---