Teaching
Pete's Lesson Toolbox April 2013
5 Free Tools to Collect Student Feedback
There are several free web tools that teachers can use to gather feedback from their students both formally and informally.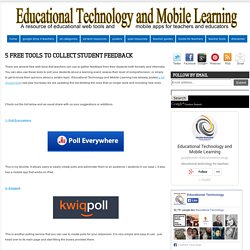 Posters to download
General Info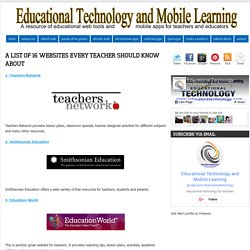 A List of 16 Websites Every Teacher should Know about
As part of their preparation for the new school year teachers try to look for new web resources and materials they can use to help them with their teaching.This is definitely not an easy task for one needs to live online in order to be able to keep up with the new releases and sift through the tsunami of web tools available online.
Posted by Shelly Terrell on Saturday, August 18th 2012 Goal 16: Plan An Engaging Lesson of The 30 Goals Challenge for Educators I cannot teach anybody anything, I can only make them think. – Socrates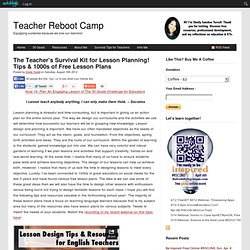 The Teacher's Survival Kit for Lesson Planning! Tips & 1000s of Free Lesson Plans : Teacher Reboot Camp
How do you feel
Some great
Ideas for next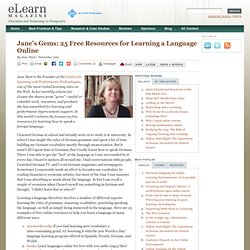 Jane Hart is the Founder of the Centre for Learning and Performance Technologies, one of the most visited learning sites on the Web.
25 Free Resources for Learning a Language Online
The whys and the
fcpteacher.flatclassroomproject
Learning to Change/ Changing to Learn: Student Voices
Halloween Submitted by TE Editor on 27 October, 2011 - 10:26 On this page you will find information about new content as well as tips and ideas for using and extending the activities in the classroom.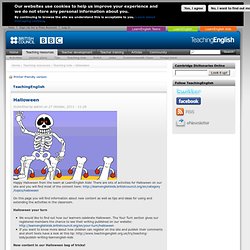 Halloween
#edtech20 project Twitter tweets related to: Videos, Class, Teachingenglish, Britishcouncil, Elt and more
Search Seminars and Webcasts - Events, Webcasts and Seminars - Cisco Systems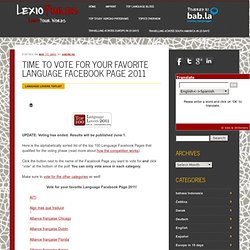 May 17th, 2011 | By Andreas | Category: Language Lovers Toplist
Time to vote for your favorite Language Facebook Page 2011
By Robin Schwarz Spoken language is noise which the experienced listener sorts into meaningful chunks. A child spends many years perfecting this sorting. In a similar way, a learner of a new language must sort out the unfamiliar sounds into pieces that make sense: phrases or sentences, words, syllables and even phonemes (the smallest sound segments). Reading experts have known for years that difficulty with the sorting process, or phonological skills, is directly connected to the reading and spelling problems of many students. More recently, researchers studying native English-speaking students who were having trouble learning a foreign language found that these students have problems similar to those of poor readers and spellers in that they do not perceive and manipulate the sound system and its corresponding written code effectively.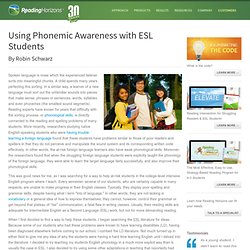 Teaching ESL Students Reading & Phonemic Awareness- Reading Horizons
Educators also give their 'wish lists' for blended learning technology, policy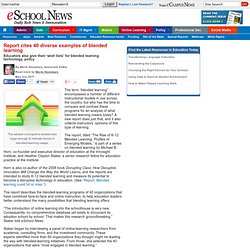 Report cites 40 diverse examples of blended learning | Featured on eSchool News | eSchoolNews.com
Digital Storytelling Tools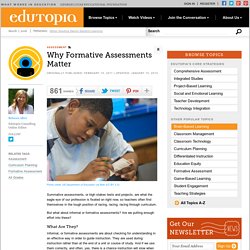 Summative assessments, or high stakes tests and projects, are what the eagle eye of our profession is fixated on right now, so teachers often find themselves in the tough position of racing, racing, racing through curriculum.
Have you looked at Blogger lately?
Declaration of Education Participants | Declaration of Education
Using Crocodoc for collaborative homework marking
ELTons - Innovation Awards - British Council
Moving from Web 2.No to Web 2.Go
I spent the week of February 7-11 attending the 2011 TCEA Convention and Exposition in Austin, Texas.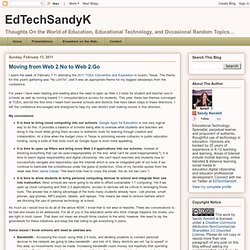 Posted by Shelly Terrell on Tuesday, February 8th 2011 Goal 7 of The 30 Goals Challenge 2011
Goal 7: Play and Have Fun! #30Goals
Education Reform – Explain it to Me Like I'm a Fifth Grader « Relentless Teaching
This whole approach to education reform for the 21st century…yeah, I need someone to explain it to me like I'm a fifth-grader. I've been reading the recently published work of a few respected educators; experts such as Tony Wagner (The Global Achievement Gap), Diane Ravitch (The Death and Life of the American School System), and Yong Zhao (Catching Up or Leading the Way). Their thoughts about the knowledge and skills students must develop to be contributing citizens in the 21st century are intriguing.
The recessionary pressures that have forced school leaders to make painful program and personnel cuts may also have accelerated the quest for savings through innovation—and enhanced the allure of educational technology as a vehicle. Online curricula, distance learning, netbooks and cellphones in the classroom, and Web 2.0 tools—think Facebook and Skype—as a means of student collaboration have all gained luster as the drive to do more with less overlaps with the demands of educating a generation of digital natives. Still unclear, though, is just how significant such innovations are likely to prove as a cost-cutting strategy,...
New Technology Could Offer Savings, Educational Boon
By shellterrell, on December 13th, 2010
Marisa Constantinides: Professional Development through Facebook and Nings
Launching Elluminate Live!