Learning
Academic Formalities: Just Making Teacher Clones? A pedant is someone – often a teacher – who insists on form, whether it helps or not.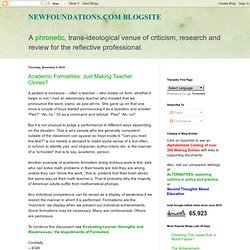 I had an elementary teacher who insisted that we pronounce the word, piano, as pee-ah-no. She gave up on that one once a couple of boys started pronouncing it as a question and answer: "Pee?" "Ah, no."
Generation. GeoGebra. Enhance your teaching and learning with Fronter Platform.
---